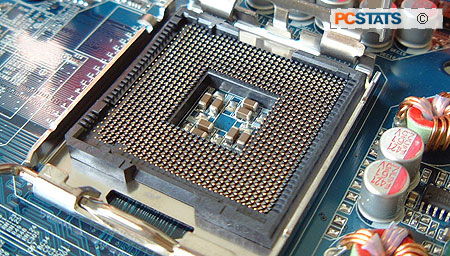 The ICH6R southbridge contains its own audio subsystem, which Intel hopes will ensure better audio quality for motherboards based on its new chipsets.
Intel's 'High Definition Audio' is a step up from the stock AC'97 audio we all love to hate.
The better breading of this audio controller make the 7.1-channel audio system packed into the Gigabyte GA-8ANXP-D worth taking note of. Intel 'High Definition Audio' enables up to two separate streams of audio at once (say, MP3's through the old home stereo, and gaming on the PC through a set of headphones), with each stream able of delivering eight channels at 192 kHz/32-bit quality.
Additionally, along with the GA-8ANXP-D's full compliment of jack-sensing audio ports are a set of SPDIF in / out connections at the rear I/O panel. With these two SPDIF RCA ports, the GA-8ANXP-D could be connected directly to home theatre system, or used for multimedia editing of audio from another source.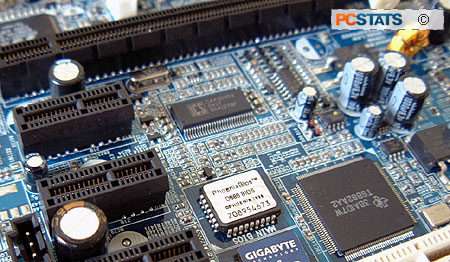 The tiny PCI Express x1 slots
Serial ATA support from the Intel ICH6R southbridge is limited to four ports, but the GA-8ANXP-D supports eight SATA devices thanks to an additional Silicon Image RAID controller. Intel Matrix Storage can be used with these eight SATA devices to configure a RAID 0 or 1 array; depending on you own requirements. RAID 0 is faster than RAID 1, but if one drive blows up you loose all data. Still, if you are prepping the system for pure gaming, RAID 0 is going to be fastest.