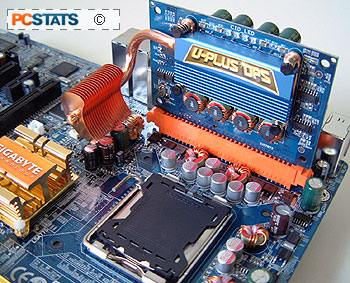 Speaking of fast, this board has two Gigabit Network Adaptors! One is based on th Broadcom 5751 NIC, and moves data along a dedicated PCI Express x1 pipe, the other uses a Marvel 8001 NIC and the PCI bus.
Gigabyte's Dual Power System
The Gigabyte Universal-Plus Dual Power System 2 (U-Plus DPS) is an eight-phase power circuit designed to various power loads, while maintaining clean power for the CPU, and future CPUs. It is not necessary for the board to run, but provides an added level of redundancy via a small card slot.
In the past, Gigabyte has employed active cooling solutions on its DPS, which raised the noise levels inside the case a few decibels. With the U-Plus DPS, the MOSFET circuitry is cooled with a copper heatpipe that move the heat towards a larger stacked copper fin array.
This cooling fin is positioned to take the cool air from the CPU and use it. Thus, no added noise is introduced, and the U-Plus DPS remains cool. Quite innovative, and quite silent.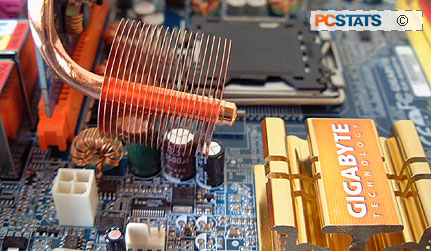 Incidently, the 24-pin main ATX power connector on the Gigabyte GA-8ANXP-D is backwards compatible with 20-pin connectors. There are still very few 24-pin ATX power supplies on the market right now, so if you don't have one, you can postpone purchasing a new PSU for a little while. Just be sure that when you plug it into the board, you connect the pins in the proper manner.