It looks like Intel may be heading into a similar situation where competing chipsets perform at about the same levels, with price the only real difference. This time around Intel is being a lot more secretive about what they've done to technically different the 925X and 915P chipsets.
Even without the 'special optimizations', the 915P is plenty powerful, and plenty quick. In fact, in most of the benchmarks we ran the board performed on par with the 925X equipped Gigabyte GA-8ANXP-D!
The Gigabyte GA-8GPNXP Duo is not just a fast motherboard... it's also completely loaded with features.
We're talking an IDE RAID controller, IEEE 1394b, four SATA channels, three PCI Express x1 slots, PCI Express x16 videocard support, 7.1 channel Intel High Definition Audio, an integrated PCI Express based Broadcom 5751 Gigabit network card, an integrated Gigabit Marvel PCI NIC, a wireless 802.11g PCI and dual BIOS'.
Gigabyte has a knack for doing all the little things right; from the board layout to the quick installation guide and understandable users manual. I do have one complaint, and that resides with the location of the main IDE and floppy drive cables, everything else is literally perfect.
With a retail price in the range of $250USD, the Gigabyte GA-8GPNXP Duo is on the upper end of the 915P spectrum. What do you expect from a board with everything you'd ever need though?
If you're looking for a new Socket 775 motherboard, be sure to a good long look at the Gigabyte GA-8GPNXP Duo!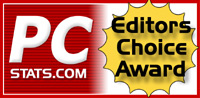 Find out about this and many other reviews by joining the Weekly PCstats.com Newsletter today!
Related Articles
Here are a few other articles that you might enjoy as well...