After some discussion for and against removing overclocking benchmarks entirely from PCstats reviews, we have decided to change how we do things, but still include them. From now on, PCstats reviews will simply list the maximum overclocked speed a motherboard is able to achieve rather than provide an overclocked score for each and every benchmark.
Since overclocking can be a very subjective skill, it just makes more sense to keep our benchmarks focused on the stock performance of system components. Plus, by listing the maximum overclocked speeds of various motherboards here, you have a better idea of which manufacturer produces the best goods for enthusiasts!
Maximum Overclocked Speeds - PCstats Results

AMD Motherboard Results

Chipset

FSB

Ranking

Epox 9NDA3+
NF3 Ultra
283 MHz
Gigabyte GA-K8NSNXP-939
NF3 Ultra
270 MHz
MSI K8N Neo2 Platinum
NF3 Ultra
236 MHz
Asus A8V DLX
K8T800 PRO
220 MHz
MSI K8T Neo2-FIR
K8T800 PRO
220 MHz
When overclocked, the Epox 9NDA3+ is able to snatch the PCstats Athlon64/Socket 939 overclocking crown away from the Gigabyte GA-K8NSNXP-939 motherboard. This socket 939 board simply blows everything else out of the water with a top FSB overclock of 283MHz!
Another well rounded motherboard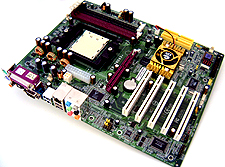 I think the early rounds of the Socket 775 Pentium 4 VS. Socket 939 Athlon 64 bout should be scored a draw. While Intel has arguably been the more innovative of the two, with DDR-2 memory and PCI Express videocards (now only met by nforce 4 chipsets), neither company has scored any real knockout blows. At the moment, most enthusiasts are probably inclined to go towards Socket 939 Athlon64 or athlon64 FX processors for performance and 64-bit software compatibility. However, with economically priced Athlon64's difficult to track down, neither AMD nor Intel is making much headway.
The Epox 9NDA3+ is a great motherboard for typical multimedia users and performance enthusiasts interested in overclocking. Included in the $154 CDN ($129 US) price tag is a Gigabit NIC, IEEE 1394, a 7.1 onboard audio codec and an additional Serial ATA controller. It's not the most well-equipped motherboard on the market, but it has pretty much everything essential. If you find you're missing something, the five 32-bit PCI slots, and four DDR DIMM slots should be plenty for your expansion needs.
In the benchmarks we ran on the Epox 9NDA3+, the board demonstrated it was able to keep up with the MSI K8N Neo2 Platinum and MSI K8T Neo2-FIR motherboards. Both of these solutions are among the fastest on the market. Epox has always been good at overclocking and we're certainly not disappointed with the results of the 9NDA3+. In our tests with an Athlon64 4000+ CPU, PCstats was able to achieve an FSB overclock of 283 MHz, which is higher than we've ever gone on any socket 939 motherboard previously. If you're thinking about jumping on the Socket 939 bandwagon, the Epox 9NDA3+ is a fine choice. It's pretty much as fast as any other Socket 939 motherboard on the market and it's affordable... There's not much more you could ask for.
Related Articles
Here are a few other articles that you might enjoy as well...
1. MSI K8N Neo2 Platinum Motherboard Review
2. Gigabyte GA-K8NSNXP-939 Motherboard Review