After some discussions for and against removing overclocking benchmarks from PCstats reviews altogether, we have decided to change how we do things. From now on, PCstats reviews will simply list the maximum overclocked speed a motherboard is able to achieve here, rather than include an overclocked score for each benchmark.
Since overclocking can be a very subjective skill, it just makes more sense to keep our benchmarks focused on the stock performance of system components. Plus, by listing the maximum overclocked speeds of various motherboards here, you have a better idea of which manufacturer really does produce the best goods for enthusiasts! Here's a brief list of Intel motherboards and their maximum overclocked speeds (Intel Pentium 4 3.0C test processor) as compared to the Gigabyte GA-8TRS350MT motherboard.
Maximum Overclocked Speeds - PCstats Results

Intel Motherboard Results

Chipset

FSB

Ranking

Epox 4PDA2+
i865PE
235 MHz
Gigabyte GA-8IPE1000 Pro 2
i865PE
230 MHz
Gigabyte GA-8TRX330-L
RX330
227 MHz
Albatron PX875P Pro
i875P
225 MHz
Gigabyte GA-8KNXP
i875P
225 MHz
Gigabyte GA-8KNXP Ultra-64
i875P
220 MHz
Asus P4R800-V DLX
Radeon 9100 IGP
216 MHz
DFI LANParty PRO875B
i875P
214 MHz
Gigabyte GA-8TRS350MT
Radeon 9100 IGP PRO
213 MHz
Gigabyte GA-8S655TX Ultra
SiS 655TX
210 MHz
Gigabyte GA-8TRS300M
Radeon 9100 IGP
206 MHz
We were pleasantly surprised at how well the Gigabyte GA-8TRX330-L overclocked. A speed of 227 MHz FSB is very nice considering there are no multiplier or voltage adjustments available in the BIOS!
Looks like ATi is serious!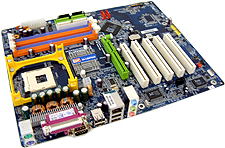 Following the lead of nVIDIA, ATi has branched out from the videocard sector into the chipset world, and the company is learning fast.

ATi's first chipset, the RS300 was a bit on the slow side and had some memory compatibility issues. The company improved on things with its RS350 (Radeon 9100 IGP PRO) and the RX330 is even better. ATi has dropped the "Radeon" name which allows the chipset to create its own identity without being bound to videocards.

The Gigabyte GA-8TRX330-L is a no frills workstation style motherboard with only integrated audio and a Gigabit ethernet controller to boast about. Five 32bit PCI slots fulfill future expansion requirements. The layout of the motherboard is very good, but the placement of the DIMM slots relative to the AGP 8X slot is pretty tight.

While previous ATi chipsets seemed a bit... lacking in performance, the RX330 is positive step in the right direction. It's still slower than Intel's i865PE, but not by too much. The Gigabyte GA-8TRX330-L overclocked to 227 MHz FSB, which is quite impressive; it would be interesting to see how much further it would allow us to overclock with better BIOS voltage options.

If you're still in the market for a Socket 478 motherboard, perhaps you should take a peek at the Gigabyte GA-8TRX330-L. It offers a good alternative to the ordinary Intel based chipsets, and is not lacking in good mainstream performance.

Related Articles

Here are a few other articles that you might enjoy as well...

1. Gigabyte GA-8TRS350MT Radeon 9100 IGP PRO Review
2. Asus P4R800-V Deluxe Motherboard Review


3. AOpen AX4SG Max II i865G Motherboard Review
4. Gigabyte GA-8TRS300M Radeon 9100 IGP Review
5. VIA PT880 Reference Pentium 4 Motherboard Review