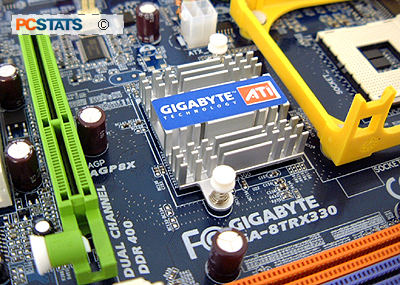 With the new RX330 chipset, ATi has dropped the "Radeon" nomenclature and I think this is a good idea. The Radeon name has long been associated with videocards, and it just sounds odd to call a mainboard chipset by the same name.
The RX330 currently only supports 200/533.800 MHz Front Side Bus Socket 478 Pentium 4 chips, but I'm sure validation for Socket 775 processors is not far off as the Radeon 9100 IGP PRO (RS350) chipset already supports them. The RX330 chipset can be equipped with up a maximum of 4GB of PC3200 unbuffered non-ECC DDR memory, which is comparable to other Intel chipsets.
Running Between the North and Southbridge is ATi's proprietary 'A-Link' connection technology which runs at 266 MB/s.
ATI has also developed 'CSA' connection technology for Gigabit Ethernet microchips, allowing them to connect to the 'A-link' data stream directly. This saves the PCI bus from bandwidth bottlenecks if you have a lot of network traffic. Unfortunately Gigabyte has not implemented this system on its GA-8TRX330-L, and instead uses the onboard Realtek 8100C NIC run through the PCI bus, as normal.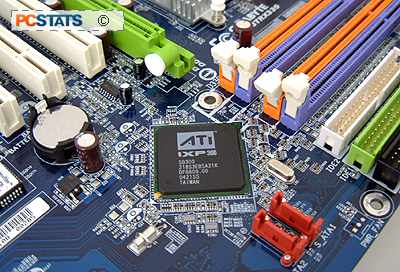 Paired with the RX330 is the ATI SB300 'IXP 300' Southbridge chip, which is identical to the past iteration of ATI chipset. Features of the IXP 300 include support for 2 SATA drives, four IDE devices and 8 USB ports. RAID 0 and 1 is supported, but only for the SATA devices.
Overclocking the GA-8TRX330-L
We have not had much luck overclocking previous ATi RS300/RS350-based motherboards to cross PCstats test bench, so we did not expect the Gigabyte GA-8TRX330-L to fare differently. To our surprise, we were able to push the board fairly easily, all the way up to 227 MHz FSB! Anything higher and Windows would crash during the bootup, which brought a halt to our overclocking adventure with this board.
With some voltage options, the Gigabyte GA-8TRX330-L could be quite a decent overclocker. Hopefully Gigabyte will add these options with future BIOS updates.
The Blue BIOS...
Like all other Gigabyte motherboards, if you want to access the Advanced Chipset Features you must first press CTRL + F1 to unlock them. Once inside we have the option to adjust the memory frequency as well as memory timings.
As you can see, there's nothing very exciting in the Frequency/Voltage Controls section. You can adjust the FSB from 200-232 MHz in 1 MHz increments but there are no other options. Up next, the benchmarks!