After some discussion for and against removing overclocking benchmarks entirely from PCstats reviews, we have decided to change how we do things, but still include them. From now on, PCstats reviews will simply list the maximum overclocked speed a motherboard is able to achieve rather than providing an overclocked score for each and every benchmark.
Since overclocking can be a very subjective skill, it just makes more sense to keep our benchmarks focused on the stock performance of system components. Plus, by listing the maximum overclocked speeds of various motherboards here, you'll have a better idea of which manufacturer produces the best goods for enthusiasts!

Maximum Overclocked Speeds - PCstats Results

AMD Motherboard Results

Chipset

FSB

Ranking

Epox 9NDA3+
NF3 Ultra
283 MHz
Gigabyte GA-K8NSNXP-939
NF3 Ultra
270 MHz
MSI K8N Neo2 Platinum
NF3 Ultra
236 MHz
Soltek SL-K8TPro-939
K8T800 Pro
233 MHz
ASRock K8 Combo-Z/ASR
ALi M1689
221 MHz
Asus A8V DLX
K8T800 Pro
220 MHz
MSI K8T Neo2-FIR
K8T800 Pro
220 MHz
Gigabyte GA-K8NXP-9
NF4 Ultra
217 MHz
While the nForce3 Ultra motherboards keep the AMD Athlon 64 overclocking crown, the Soltek SL-K8TPro-939 overclocked very well for a VIA K8T800 Pro motherboard, and easily carried off the 'best of the rest' title.
A very well rounded motherboard!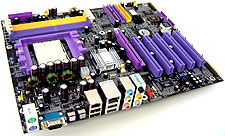 I'm sure quite a few of you will be receiving computer-related gifts this holiday season and you couldn't have picked a better time. Both Intel and AMD have finished their transitions to new technology, and the future is bright. Initial sales of Socket 939 processors and components were sluggish. Not surprising considering that the Athlon64 3500+ retailed for $500 when it was released. Now that more affordable chips are available, processors and components are flying off the shelf.
Soltek has put together a very well rounded motherboard with its ST-K8TPro-939. It's fast and it sports a ton of integrated features as well. Onboard components include IEEE 1394, Gigabit LAN, an additional Promise IDE/SATA RAID controller, a 7.1 audio codec and my personal favorite, the Port 80 diagnostics card. If you find you're missing something, expansion is made easy thanks to the five available 32 bit PCI slots.
Of course Soltek could have things even better if it had bundled in three rounded Ultra/133 IDE cables instead of just one. It would have also been useful for the LPT1 printer port-less motherboard to include the necessary USB/IEEE 1394/LPT1 headers to take advantage of the motherboard's integrated features.
Ultimately, the performance of the SL-K8TPro-939 motherboard was outstanding, and it scored consistent firsts or seconds in most of the benchmarks we threw at it. Hard disk performance was low according to Winbench 99, but it sure didn't feel like it when we were testing. On several occasions, this Soltek motherboard was able to beat the extremely quick Gigabyte GA-K8NXP-9 nForce4 Ultra motherboard, and even MSI's venerable K8N Neo2 Platinum. Both are among the fastest Athlon64 motherboards on the market right now, and both come highly recommended.
With a retail price of just $135 CDN ($114 US) the Soltek SL-K8TPro-939 offers end users value that's tough to beat. If you're looking for a new Socket 939 motherboard make sure you check out the SL-K8TPro-939!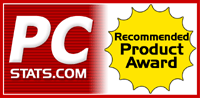 Find out about this and many other reviews by joining the Weekly PCstats.com Newsletter today! Catch all of PCstats latest hardware reviews right here.
Related Articles
Here are a few other articles that you might enjoy as well...