After some discussion for and against removing overclocking benchmarks entirely from PCstats reviews, we have decided to change how we do things, but still include them. From now on, PCstats reviews will simply list the maximum overclocked speed a motherboard is able to achieve rather than provide an overclocked score for each and every benchmark.
Since overclocking can be a very subjective skill, it just makes more sense to keep our benchmarks focused on the stock performance of system components. Plus, by listing the maximum overclocked speeds of various motherboards here, you'll have a better idea of which manufacturer produces the best goods for enthusiasts!

Maximum Overclocked Speeds - PCstats Results

AMD Motherboard Results

Chipset

FSB

Ranking

Epox 9NDA3+
NF3 Ultra
283 MHz
Gigabyte GA-K8NSNXP-939
NF3 Ultra
270 MHz
MSI K8N Neo2 Platinum
NF3 Ultra
236 MHz
ASRock K8 Combo-Z/ASR
ALi M1689
221 MHz
Asus A8V DLX
K8T800 PRO
220 MHz
MSI K8T Neo2-FIR
K8T800 PRO
220 MHz
Gigabyte GA-K8NXP-9
NF4 Ultra
217 MHz
Amazingly the ASRock K8 Combo-Z/ASR is able to overclock higher (with the Athlon64 4000+) than both VIA K8T800 PRO Socket 939 Athlon64 motherboards we tested! Not bad considering its budget status.
A heck of a value!
The AMD Athlon64, while technologically more advanced than Intel's Pentium 4, has had a rough ride since it's release back in September 2003. Socket 754 Athlon64's never really gained a lot of acceptance since their replacement, Socket 939 was already on the horizon. The ASRock K8 Combo-Z/ASR motherboard offers users who want to jump on the Athlon64 bandwagon an interesting alternative. Priced at just $91 CDN ($76 US), the K8 Combo-Z/ASR allows users the choice of using more affordabler Socket 754 Athlon64s while waiting for mainstream Socket 939 chips to come down in price.
The ALi M1689 chipset is not as advanced as VIA's K8T800 Pro or nVIDIA's nForce3 Ultra. It sports only an 8-bit wide data path upstream and 16-bits downstream on the HyperTransport link, but at least it runs at full speed (800 MHz for Socket 754 and 1 GHz for Socket 939).
In terms of performance, we were pleasantly surprised with the ASRock K8 Combo-Z/ASR. Yes, the motherboard did come in last in most of the tests but generally only by a few percentage points. Considering its price, it handled the tasks well.
The physical layout of the ASRock K8 Combo-Z/ASR board could have been been better. I'm not a fan of placing the floppy drive connector at the bottom of the motherboard. Also, having to move six sets of jumpers to use the other CPU socket is kind of annoying, and holds the potential for technical troubles. It would have been nicer if this process was automated, or at least used dip switches. It's not something that most users will have to do more than once, though. Overall we're very pleased with what the ASRock K8 Combo-Z/ASR has to offer. It could have performed better, but for its price and the flexibility it offers, it's hard to beat!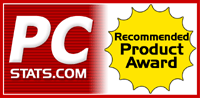 Find out about this and many other reviews by joining the Weekly PCstats.com Newsletter today!
Related Articles
Here are a few other articles that you might enjoy as well...
1. Gigabyte GA-K8NXP-9 nForce4 Ultra Motherboard Review
2. MSI K8N Neo2 Platinum Motherboard Review
3. Asus K8N-E Deluxe Motherboard Review
4. Gigabyte GA-K8NSNXP-939 Motherboard Review
5. MSI K8T Neo2-FIR K8T800 Pro Motherboard Review