The tabbed browsing system allows one 'main' Firefox window to contain several tabs, each of which contains a different open web page. Using this method, you can quickly switch back and forth between multiple pages without needing to have several instances of Firefox open.

To open a new tab, either right click on a link and select 'open in new tab' or choose 'file\new tab' from the menu bar. Each tab has its own address bar and can be navigated independently. You can automatically open a link in a new tab by 'middle-clicking' on it or dragging and dropping the link into the tab bar.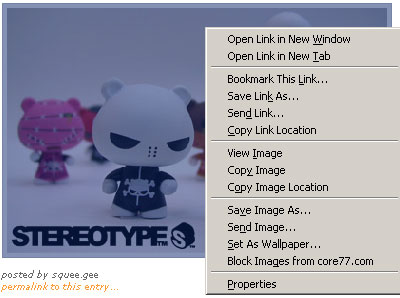 One very neat feature that is enabled with the use of tabbed browsing is the ability to assign multiple websites to a single 'home page.' You can open up as many tabs as you'd like, set each of them to a different favorite web page, then go to 'tools\options\general' and click the 'set home pages' option. Now whenever you open Firefox or click the 'home' button, each site will open in a separate tab. I simply love this feature!
Better yet, clicking the home page button while you have tabs open to other pages will not close these tabs. Instead, your home page tabs will be added on to the list.
Overall, tabbed browsing certainly makes using Firefox faster and more enjoyable than using IE. Once you've gotten used to it, you definitely miss the feature as you plod along in IE6 through all the pop-up infested websites. We'd imagine the next version of Microsoft's browser will incorporate this feature.
Popup Blocking and Alerts
The Firefox 1.0 browser implements pop-up blocking by default, in a similar manner to the WinXP Service Pack 2 upgraded version of Internet Explorer. An alert bar appears at the top of the screen whenever a pop-up is intercepted. Clicking the bar gives you the choice on allowing the pop-up for that particular site.

The pop-up blocker seems to work very well in our experience, and is very non-intrusive. As we said, it's virtually identical to the method seen in the latest version of Internet Explorer.
Website-initiated software downloads are generally handled with a prompt for permission from the user, though these downloads can be disabled completely through the 'tools\options' menu. If the page you are viewing requires a plugin like Macromedia Flash Player to open some content, the alert bar will inform you of this. You can click the bar to download the required plugin, which is a nice touch. Any sections of the web page that require a plugin you don't have are replaced with a logo, and caption explaining their absence. Firefox also allows you to click on these sections to initiate the download as well.

The Firefox browser's handling of pop-ups, alerts and plugins is excellent. The necessary features are enabled by default, they work well and are effortless for novice users.