Unlike Internet Explorer which uses a separate window for each download in progress, Firefox makes use of a dedicated 'download manager' window which lists all pending and completed downloads and their status. Once you give the browser permission to download a file, the manager window opens and the file is added to the list for downloading.
When the download is complete, a small system tray window will pop-up, informing you.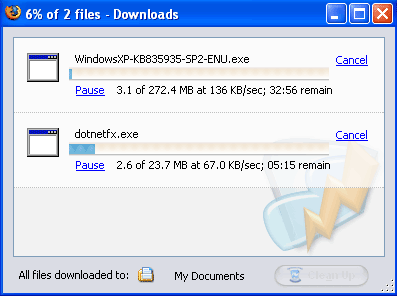 While not revolutionary, this is a convenient feature to have, especially when you are downloading several files at once.
Integrated search tools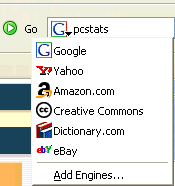 Firefox builds a search bar field right into the main interface. Simply type your search request into the field and hit enter to open a search page. By default it is linked to Google, but the search target can also be set to Yahoo, Amazon.com, EBay, Creative Commons, dictionary.com or attached to a search engine of your choice.
We appreciated this feature greatly, as it provides essential search functions without requiring extra navigation or potentially troublesome plugins. The only thing we wished for was a slightly larger text field for the search bar. It's easy to type right off the screen in its current size.
Browser customization, plugins and themes
I'd have to say that I really like the way that Mozilla implemented plugins (here called 'extensions') and themes in the Firefox browser. Both have a link in the 'tools' menu which opens up a management window for extensions and themes respectively.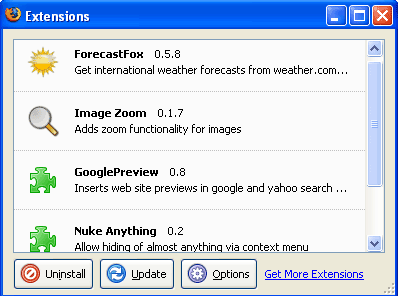 The extensions management window shows which extensions you have installed, and allows you to individually remove them or check for updates. It also includes a 'get more extensions' link which sends you directly to the Mozilla update site for Firefox extensions. From here, you can browse through a large list of user created extensions and install them directly from the site. Compared to the plugin process for IE, this kind of centralization of the process is a massive improvement.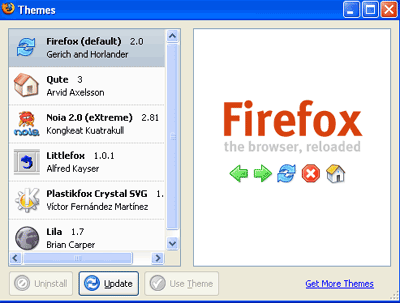 The theme management window works in a similar fashion, allowing you to view and set themes and providing you with a link to download more. The use of these management features makes customizing Firefox an absolute breeze. This is one area where Mozilla's new browser is definitely superior to Internet Explorer.