The difference between this approach and what you'll currently find inside your own PC has mainly to do with the fan duct, and where the heatsink draws its intake air from.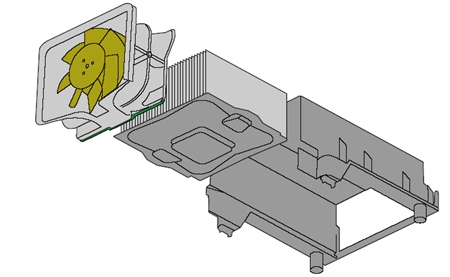 When installed in a BTX case, the thermal module draws its intake air from the case's front vents, passes it through and over the processor heatsink, then across the chipset and PCI Express 16x slot, then exhausts the warm air out the back of the case.
To facilitate this arrangement, the BTX motherboard layout has been shifted significantly from that of ATX systems. The processor socket has been relocated by the front of the motherboard (as relative to the front of the case) where it will be the first to receive the cool air being sucked in by the fan. In addition to this, the socket is rotated 45 degrees so that one corner points towards the front of the case. This allows incoming air to stream around two sides of the processor's traditionally rectangular heatsink, removing heat more effectively and providing a better flow of air to the rest of the components.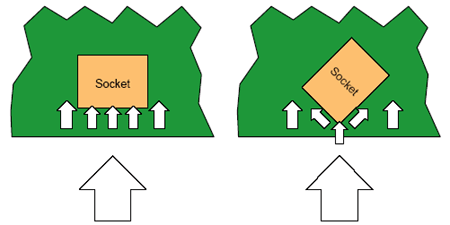 Intel has shown two reference designs of its own for how it envisions the actual processor heatsink to be made. These reference designs are usually available to manufacturers for free, and are readily modified and reproduced.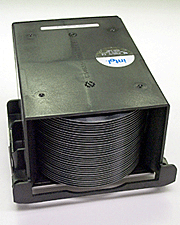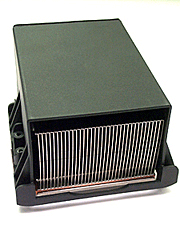 The 'performance' BTX heatsink consists of a large, cylindrical chunk of aluminum, spiral-finned to allow air to flow easily over its surfaces from any angle. The 'mainstream' BTX heatsink is a more conventional stacked aluminum fin design. Both reference BTX heatsinks make use of copper base plates and cores. In each example, the BTX heatsink is fully enclosed by the thermal module's ducting, ensuring that it gets unobstructed access to the flow of cool intake air.
The thermal module and heatsink add up to a hefty burden for any potential heatsink retention mechanism to hold. Take into account the fact that the BTX specification allows for heatsinks up to 100% larger than current designs and you have some serious weight coming to bear on the motherboard, and processor nestled below. To counteract this, the BTX form-factor mandates a SRM (Support and Retention Mechanism) be attached to both the underside of the motherboard and the heatsink. This steel plate, which will be included either with BTX cases or motherboards, helps reduce the flex of the board, and secures the heatsink in place.
Unfortunately, this means that BTX motherboards will probably have to be removed each and every time the heatsink is swapped out, and the SRM reinstalled with the BTX heatsink.