Unlike many recent computing technologies such as PCI Express or DDR-2, BTX is not the product of a group of companies. Intel is the sole motivator behind this technology, which has led to some suspicion in the industry as to the actual reasons why BTX is being pushed as the future of motherboard design. After all, is there really a need for BTX?
| | |
| --- | --- |
| | |
| Type 1 | Type 2 |
It is known that Intel has reached the upper limits of their conventional Pentium 4 processor architecture, and so the crusade of speed above everything else has come grinding to a halt. The extravagant cooling requirements of what were to be the next generation of Intel processors forced the cancellation of that branch (Tejas) of the roadmap. Instead, Intel is moving in several different directions at once in a quest for the continued improvement of their processor line.
If you accept the idea that Intel has not entirely given up on the idea of pushing forward and breaking the 4Ghz barrier, BTX would probably help them greatly. The BTX standard essentially enlists case manufacturers into the task of keeping the CPU (and chipset) cool. By standardizing the means by which their processors are cooled, Intel greatly simplifies their planning process when building new chips.
Intel will almost certainly be able to get widespread adoption for BTX if they want it. OEM buyers like DELL will likely be willing adopters of the technology, especially for their business customers. Intel's upcoming chipsets, 'Glenwood' and 'Lakeport,' will be offered in BTX as well as ATX flavours, so it will give the market a chance to sample the new technology, assuming anyone is left without an AMD Athlon64 by that time.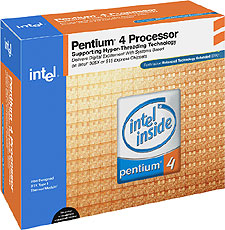 We find it unlikely that Intel will be in a hurry to force BTX changes down consumers throats. Given that the much publicized elimination of 'legacy' connectors and floppy drives that previous generations of Intel chipsets were supposed to trigger never occurred, I doubt the company has any illusions about BTX catching on with the home and enthusiast markets just because its new. More likely we will see a gradual changeover to BTX brought about by sales of 'white box' BTX systems packaged by major manufacturers.
The company is now selling BTX motherboards and Thermal module-equipped processors, but only a scant few manufacturers are producing BTX cases at the moment. BTX does seem to have a lot to offer, but it seems to us that its benefits are more for the manufacturers, especially Intel, than the buying public. To be fair, Intel probably has its business customers more in mind here. Companies that buy several new PCs a year are not going to be concerned with the changes made by the new form-factor as long as they get quiet, cool-running systems at the usual prices.
The one area where BTX may benefit everyone, including the enthusiasts, is in video card cooling. With the new form-factor, the VPU and memory heatsinks of your PCI Express card will finally receive a constant stream of cool(ish) air, instead of being tucked out of the way of the airflow as was the case in ATX systems. Good news for video card makers if the standard is widely adopted, and a good idea from Intel here.
From appearances, BTX-based systems should also be quieter than most high-end ATX systems. A larger, slower fan coupled with thermal throttling technology should spell a low noise output. Good for businesses and home users.
BTX may present initial difficulties to the enthusiast market in the area of processor cooling, since the heatsink is now an integral part of the ducted 'thermal module.' If the standard is successful though, I'm sure you will see the usual suspects begin to manufacture custom thermal modules just as they make custom heatsinks now. Indeed, the added weight-bearing capabilities of BTX motherboards should allow for even more radical cooling designs of copper and aluminum.
Overall, there's much to be optimistic about with BTX, but nothing that's going to warrant people rushing out and buying the products as soon as they appear. Wait a while; chances are BTX will come to you anyways.
Find out about this and many other reviews by joining the Weekly PCstats.com Newsletter today! Catch all of PCstats latest hardware reviews right here.
Related Articles:
Getting Ready for BTX
Introduction to DDR-2: The DDR Memory Replacement
Introduction to PCI-Express: the AGP8X Replacement
Beginners Guides: Assembling Your Own PC
AMD Athlon64 and AMD's 64-bit technology