Microsoft has gone for a clean, uncluttered interface quite similar to that of Symantec's anti-virus programs. Looking at the ancestor of this app, the GIANT antispyware program, it's obvious that Microsoft has done very little to the interface besides rebranding. Compared to Ad-aware and Spybot, the initial lack of options and overall simple appearance is quite striking. Don't be fooled though, as you saw above, there's a lot of features lurking under the clean shell.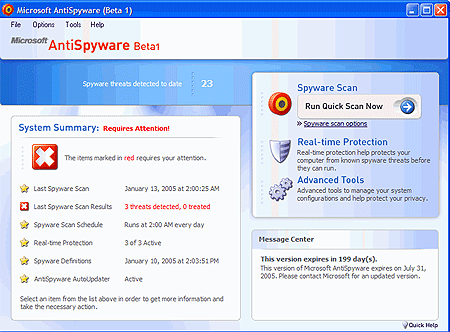 The real-time protection features can be accessed through the button on the top right, and the systems explorer, browser hijack restore and tracks eraser can all be accessed via the 'advanced tools' button in the same location.
The settings menu, 'options/settings,' contains a limited array of configuration settings including automatic update, real-time protection and alert settings (all on by default), the SpyNet connection option and a 'whitelist' for placing software you want ignored by the program's scans (useful for peer-to-peer programs which will usually show up as they play host to much adware).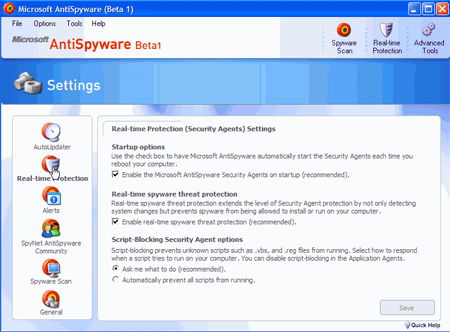 As you would expect, using Microsoft's new antispyware beta software proved to be quite simple. After selecting whether we wanted the real-time protection enabled and if the program was allowed to send data to SpyNet, we were dropped right into the scanning interface, where an 'intelligent quick scan' was the default option. We chose to activate the 'full' system scan instead for all of our testing.