CPU usage hovered between 50% and 80% typically during our tests, with memory usage pegged in the mid 20MB range. This makes it a bit more processor and memory intensive that Ad-Aware SE, but not by much. As you would anticipate from scanning software, the Microsoft Windows AntiSpyware (beta) program did a pretty good job of making our computer temporarily resemble molasses, but no more than any other spyware or virus scanner we have tested.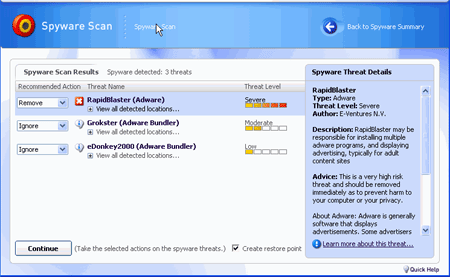 Finishing the scan takes you to the spyware scan results window, which was probably our favourite component of the software from a usage perspective. The detected spyware/adware/malware applications are arranged and graded by threat level in the left hand window, each with a drop down box indicating the action that should be taken for them (the default setting of this box is the antispyware program's recommended setting).
Users can open a 'view all detected locations' tree for each entry which expands to show you all detected files and registry entries for that particular piece of nastiness. On the right hand side is an information window which provides some basic information on the highlighted entry, including its author and the trouble it can cause.
We loved the way the spyware scan results window was laid out. In comparison to Ad-Aware SE or Spybot, well... There is no comparison. The Microsoft antispyware software, even in beta is much more user friendly and this should contribute to helping novice users feel confident about finding and deleting spyware. As a nice touch, a check box on the bottom of the screen allows Windows XP users to create a system restore point before taking any other actions.
Clicking the 'continue' button gives you a summary of the actions the Microsoft Antispyware software is about to take. Confirming this sends information to SpyNet (if enabled) then cleans the offending software off your system.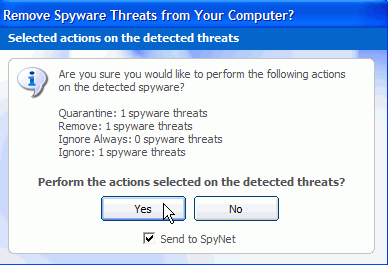 One thing that we noted is that this Microsoft beta does not seem to be as effective as Ad-Aware in finding the various 'tracking cookies' that websites might leave on your system. The software seems to pretty much ignore these completely.
As a side note, any doubt that Microsoft was using GIANT's technology pretty much unchanged was dispelled by the fact that the software shows up as 'GIANTAntispywareMAIN.exe' in process manager.