We tested Microsoft Windows AntiSpyware (beta) on three separate platforms: An older Intel-powered laptop known to be infested with spyware, an average AMD-based office machine which was not thought to have spyware but which had not been recently scanned, and a newer AMD gaming system which we were absolutely sure had no spyware on it (but of course it did). In all cases we ran Ad-Aware SE with the most recent updates on the same machine and compared the results.
Infested to the wires: The Intel Laptop
This Windows 2000 machine actually fell below the minimum required specs for the anti-spyware software, possessing only a 233MHz processor as opposed to the listed requirement for 300MHz, but it had more than enough memory, and in practice the software performed just fine.
Before we ran the tests we were quite aware that the laptop possessed an array of nefarious spyware due to some experiments we'd previously run for PCSTATS own highly useful Anti-Spyware Guide. In fact, we'd sort of been encouraging these programs knowing that at some point having a completely spyware-infested system could come in handy.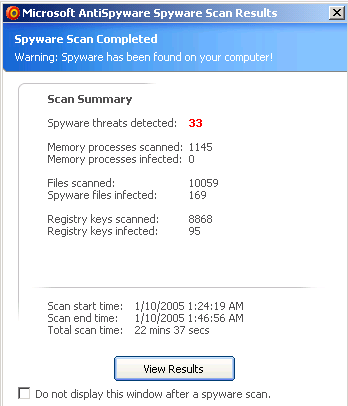 The Microsoft Windows AntiSpyware (beta) software found more results than Ad-Aware, 33 to Ad-Aware's 19. Microsoft's software seemed to find most of the same files that AD-Aware identified, though there were some discrepancies between the two in terms of files. Most notably, the Anti-spyware beta identified a strain of the notorious 'CoolWebSearch' browser hijacker that Ad-Aware did not pick up.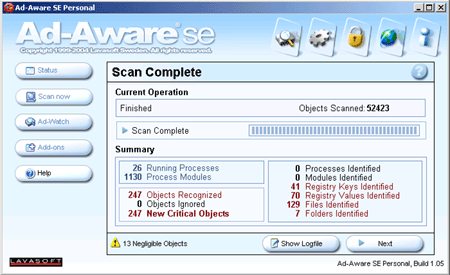 We decided to run Ad-Aware though its removal procedure then rerun the Microsoft Beta to eliminate overlapping results. We were left with this: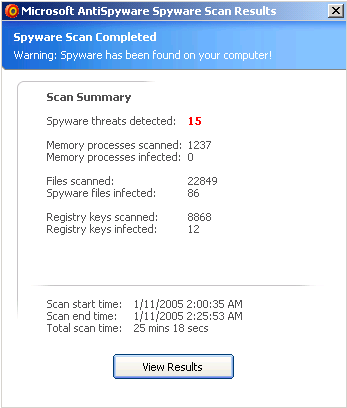 15 remaining infected files, one of them being CoolWebSearch. We then ran the Microsoft Anti-spyware beta's removal process. We're pleased to report that after a restart, all signs of infection were gone, including the CoolWebSearch presence. A good start for Microsoft here, as the new beta found and eliminated more threats than its free competitor.