Handy Recovery will run through that disk looking for partition information. Once it's finished, it will display a list of partitions that you can then search for files.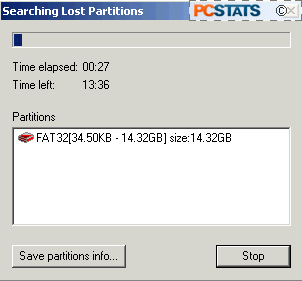 Once you've selected your partition, hit the 'analyze' button, and the Handy Recovery 2.0 software will search through the disk and assemble a list of all files, including deleted ones. Now you can locate and highlight the files or folders you wish to retreive.
By using the 'find file' button on the toolbar, you can locate specific file names within the drive. Otherwise, a directory which has deleted files in it is represented by a red plus sign.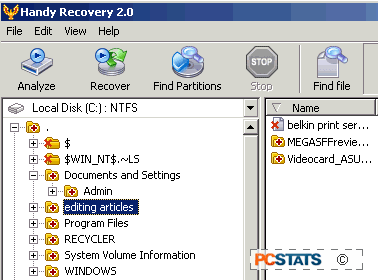 Navigate to the directory that held the files you lost, then right click on them to recover them. In the case of files which are deleted after being sent to the recycling bin, things are not quite so simple, as these files are actually renamed and their location is changed.