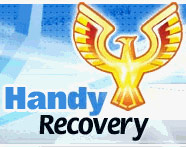 As a basic data recovery program for home users, Handy Recovery 2.0 is basically excellent. In our tests it never failed to recover files that had been deleted, formatted over or had their partitions removed. Like any other program, the more data you write to the drive, the less chance of recovering your deleted or formatted data, so if you've lost something, prompt use of this program or another data recovery method is advised.
In our view, the best thing about Handy Recovery 2.0 is the simplicity of the interface. As long as you grasp the basic idea (i.e. that the program will search your drive for deleted files then allow you to browse through the file structure to restore them) any user should be able to use the program effectively. We also appreciated the fact that Handy Recovery 2.0 allows you to begin recovering files or analyzing partitions as soon as they are detected, instead of forcing you to wait until it has finished searching the entire disk or partition. Good choice here.
The only issue we had with the basic functionality of Handy Recovery 2.0 was that the instructions do not explain what users should look for when trying to retreive a file or folder deleted from the recycling bin. Without this instruction, most users would not realize that they cannot search for these files by name, but instead must browse the 'recycler' folder for deleted items
This more a problem with the way XP handles the recycling bin than an issue with Handy Recovery, but it would have been nice to have an explanation ready for new users. There was also some strange behaviour by the built-in partition cloning utility, but it did work correctly, despite telling us that it had not.
Handy Recovery 2.0 does not do anything you cannot do for free with various programs, but it does bind all these essential recovery functions into a neat, attractive and fast interface and performs them quickly and efficiently. In our mind, this makes it worth the $36CAN ($30US) SoftLogica is charging for the program.
Find out about this and many other reviews by joining the Weekly PCstats.com Newsletter today! Catch all of PCstats latest hardware reviews right here.
Related Articles
Here are a few other articles that you might enjoy as well...
1. Hard Drive Data Recovery
2. Crash Recovery: The Blue Screen of Death
3. Back up and Restore Data in WinXP
4. Diagnosing Bad Hard Drives
5. Installing RAID on Desktop PCs