The bundle included with the Megaview includes an A/V cable, USB cable, ear bud headphones, a credit card sized remote and battery, a nice little wallet-sized carrying case with a belt strap, a carrying strap, the AC adaptor and an instruction manual.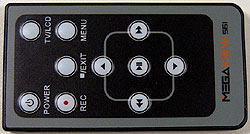 The Software packaged with the unit included a 15-day trial version of Doctor DivX (which we used to encode some movies for testing) and a driver/recovery CD. This CD can be used to recover the device's file system in the event that formatting the hard drive becomes necessary.
The multi-language manual covered the necessary topics well and was adequately illustrated. More details on the player's specifications would have been nice. The tiny credit card remote is aesthetically pleasing but has a very limited range. In our experience, any distance over 4-5 feet proved too much for it.
Of course, being more than four feet away from the screen means that you can't really see the LCD anymore, but more range would have been good for TV display and using the Megaview as an MP3 jukebox.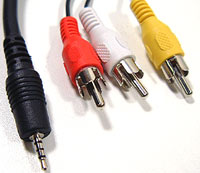 The fact that the IR port is on the bottom of the unit probably has a lot to do with the remote's range limitations under normal use. Placing the device flat on the table with the IR window pointing in our direction gave us much better performance for TV-out and audio use.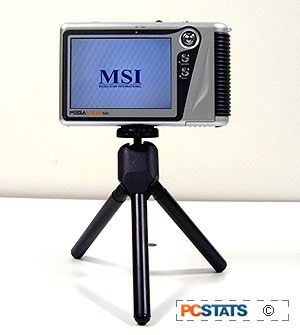 The included A/V cable uses a special mini-jack to connect to the Megaview 561 player and branches out into phono L/R audio jacks and a composite video connector.
The included tripod stand turns the Megaview 561 into what feels like a tiny LCD television, but be careful. If you lean the unit too far back on the stand, the swivelling base has a tendency to let it fall back onto the ground!
This is not an issue as long as you keep the player vertical on the stand, however. The tripod is a nice addition and adds to the overall 'quality' feel of this product.
Connecting the Megaview 561 to a computer is completely painless provided you are using Windows 2K/XP. It works like any other USB storage device, and you can drag-and-drop data into the unit as soon as it is detected. The player's directory contains folders for "video," "music" and "photo" so it's fairly obvious where to place your files.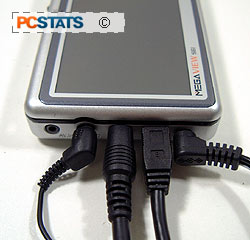 The USB 2.0 connection enabled us to transfer large DivX files within a couple of minutes, which is an essential feature in a multimedia player like this.