One of the most important aspects of any video player is obviously going to be the screen, and the Megaview 561 fares pretty well in this department. The 3.5" LCD could have been brighter, but it was certainly fine for viewing in all but bright outdoor conditions. The viewing angle of the LCD was fairly tight, but again this is not surprising or really an issue with smaller screens. Colour reproduction was excellent, especially for photo viewing, and we saw no sign of ghosting. Pixel size is rather large, although we could not nail down exact specs...suffice to say, the overall native resolution is probably 640x480.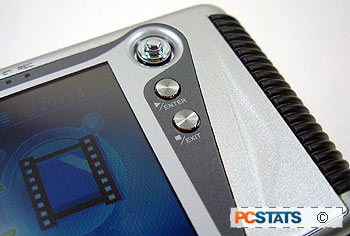 The MSI Megaview 561 uses a scrolling graphical menu, with options for video, FM radio, Music, Photo, A/V recording and Settings. The settings menu contains display, photo, record and system sections. We found the menu system very intuitive and easy to use, though we wish that the joystick allowed continuous movement when held in a certain direction.
The display settings menu allows PAL/NTSC settings for video, select between LCD and TV-Out and choose brightness settings.
The Photo menu allows you to enable the playing of music while in photo mode and alter the speed of the slide show mode.
The recording menu allows you to set video, audio and voice recording quality.
The settings menu is a catch-all of other options including turning the screen off after a period of inactivity, powering off the device the same way, changing language, date and time and setting the alarm.
Below are a sampling of the major menu screens from the MSI Megaview 561 to give you an indication of its user GUI.
MSI Megaview 561 Menus
Voice Recording
Audio Recording on the fly
Digital FM Radio tuner
General device info
System settings
Recording settings
Photo options
Display options are rather limited
General feature menu
General feature menu
File navigation and file info
Thanks to the simple interface, the credit card-sized remote can perform almost any function that the Megaview 561's built-in controls can. We were disappointed that we could not turn the unit on with the remote, though we could turn it off. The TV/LCD button on the remote cycles the Megaview 561 into TV display mode, turning the LCD off. If you are not currently connected to a TV and hit this button, the LCD will stay off until you cycle the unit's power, which was a little annoying.