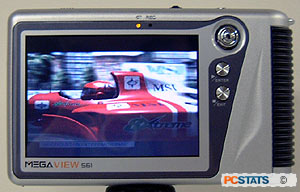 Our first attempt at video playback was mostly successful. A DiVX encoded version of Monty Python and the Holy Grail recorded at 336x144/550kbps video/64kbps audio proved slightly jerky, but still watchable.
Successive attempts with lower bit rates resulted in much better frame rates and an enjoyable movie watching experience. The ideal bit rate seems to be 250kbps or lower for DivX video, or at least it was for us.
During video playback, the joystick can be used to raise and lower brightness levels (up/down) and fast forward/rewind the movie (right/left).
The play button plays and pauses the clip while the stop button... stops it. Simple and sensible navigation control.
We would have like the ability to scroll through or pause movie clips and select other options, but we're not really surprised that this was not included as it would be difficult to implement on a handheld device. Users will have to settle for fast forwarding through their clips (at up to 16X speed).
Photo Viewing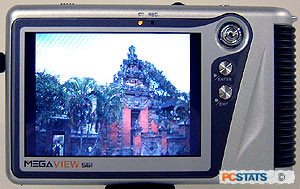 The MSI Megaview 561's photo viewing options are surprisingly comprehensive. From the 'photo' menu option, you can browse your photos via the file manager and preview them in a tiny window. Hitting the Enter button will cause the selected picture to be displayed full screen.
The player's software will automatically resize each photo to fit the screen space, which worked well most of the time. pressing the joystick right while viewing the full-screen image cause the image to rotate 90 degrees in that direction, which is a nice touch.
By continuing to press right, you can rotate the image completely around. Unfortunately, images taken in portrait mode do not expand to fill the screen when rotated to landscape mode, which was a pity.
Pressing the joystick left while in full-screen photo viewing mode will cause a thumbnail menu of the closest nine pictures to appear. You can then scroll through the contents of the photo directory viewing in thumbnail format. An option in the settings menu allows you to play files from the music directory while viewing your photos. To add to this, a slide show option is also available which will move through your pictures automatically.
TV-out of photos and DiVX Movies
The MSI Megaview 561's TV-out feature worked extremely well in our quick tests. On our test screen (a Samsung Syncmaster 192MP LCD TV) we plugged the A/V cables in, switched the TV's source, hit the TV/LCD button on the remote and we had video on TV right away. The photo viewer looked fantastic on the big screen, though some of our video files suffered in the transition since they were formatted for the small screen. There's nothing to say you can't copy hi-res DiVX files onto the device though.
The limited power of the Megaview 561 unit does place some restrictions on its usefulness as a TV-out device for video watching. Files that the player can run well often look poor on a big screen, while files that are formatted to look good on big screens may be a bit more than its playback hardware can handle. Photo viewing on television is extremely easy to set up and looks great though.
Audio, Radio and Voice Recording
Our video recording tests were accomplished with a Samsung DVD player and a copy of The Matrix. Initially recording at 'best' quality and resolution, we found the playback framerates were perfect and picture quality was excellent, but the picture was overly dark. This problem carried over to our second test DVD, 'Pitch Black.' Both of these movies have several low-light scenes, and these were very difficult to view through the Megaview 561's screen, even at maximum brightness.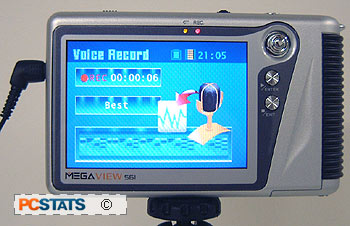 The issue seemed to be with the contrast, as colourful, normally lit scenes appeared fine. Dark scenes just faded into black too readily. This was not a huge issue, as the picture was still viewable, but it did slightly decrease the enjoyment of the movies for us.
Switching to a TV tuner, we recorded 15 minutes of various network programming for testing purposes. The contrast issue was much less pronounced when playing back the TV files, and we were quite satisfied with the Megaview 561's output. This device would be perfect for recording your favourite shows to view on the road.
Keep in mind that the Megaview 561 does not include any sort of scheduling application. All recording must be done manually by pressing the record button.
All recording was done at 'best' quality, and the created MPEG-4 files averaged around 100MB for 20 minutes of video.