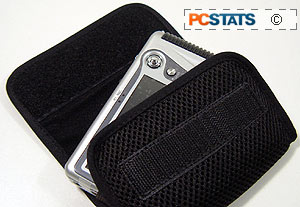 The built-in MP3 playing application was just fine. The program brings up an onscreen interface including time and equalizer displays, but it's likely that most users will turn off the screen to conserve battery life.
Audio quality is about as good as you'd expect through the built-in speaker, somewhat clear, not distorted but with no bass at all when played at medium levels; raising volume to maximum caused serious distortion. Stick to headphones, seriously.
Sound quality through headphones was fine, equivalent to your average MP3 player. Volume was more than adequate through the included set of ear buds. The audio player comes with an equalizer that can be set to 'normal,' 'jazz,' 'rock,' 'classical,' or 'dance' presets. MP3 playback was fine, and we noticed no glitches. The file manager built-in to the Megaview 561 allows you to create folders which you can use to organize your tracks. Files are stored in alphabetical order in each directory.
The Megaview 561 is not a sophisticated MP3 playback device, but it does the job well enough to satisfy most users, especially considering its additional attributes.
Digital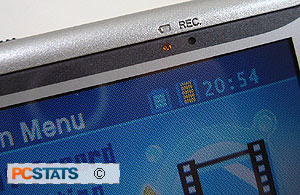 FM Radio
The reception and sound quality on the included radio app were excellent, as was the quality of the MP3 files we created from recorded broadcasts. The one irritation here was using the joystick to scan between stations. The radio application lacks an auto-scanner, so we had to shift manually through the FM band. This would have been fine except that the joystick does not allow continuous movement, so every slight change requires a new push on the stick.
Fortunately you can store up to eight radio presets, so this shouldn't be much of a problem after the initial setup.
Voice Recording
The voice recording function worked as intended. Playback quality was very good through headphones, but quite poor through the speaker. In testing, the mic picked up a conversation clearly from about 4-5 feet away, so it would probably do fine in a lecture hall situation as long as there was not too much background noise. Touching the player while the mic is recording caused lots of sound interference.
If you have the idea to bring the Megaview 561 along to record a concert, or covertly monitor a meeting, you'll probably be left with a recording of every detailed movement of your coat pocket. A separate condenser microphone would be the best option for such clandestine recordings, but there is no mic-in jack on this personal media player.