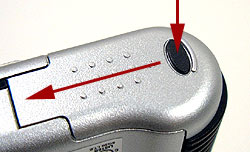 The MSI Megaview 561 uses a small sealed Lithium-Ion battery pack rated at 3.7V 2200mAh which slides smoothly into the bottom of the hand grip on the right side of the player. The included AC adaptor is used for charging.
In our tests, battery life was adequate. Playing movies and video files, we experienced battery life of about 3.5 hours, while with music and radio playback (with the screen off) we got about 3.5 hours out of the unit. MSI claims playing times of 3 hours for movies, 8 hours for radio/MP3 and 7 hours for photo viewing.
Ultimately, the MSI Megaview 561 is a fairly well executed device, with some great design features and a multitude of capabilities.
Throughout our testing we found the interface extremely simple and intuitive to use.
Reading the manual was virtually unnecessary, so kudos to MSI's designers for keeping it intuitive. A little more horsepower to play higher quality movies would have made it truly impressive as a multifunction device, but the Megaview 561 still shines as a portable video player.
The included tripod and remote were a nice touch, and raise the overall value of the unit, though relocating the IR port to the front of the Megaview 561 would have made it much more useful. The battery life of this unit was about 3.5 hours.
If we could suggest any improvements to this unit, they would be the addition of a dedicated contrast control for the LCD display, and the ability to continuously scroll with the directional joystick. Additional battery life would be a welcome improvement also, though the batteries are currently adequate.
If you want to view movies, television shows, video clips or listen to music on the go then the MSI Megaview 561 is a great choice. It handles a multitude of formats, can record from TV, radio and other A/V sources and is small enough to carry with you everywhere.
Find out about this and many other reviews by joining the Weekly PCstats.com Newsletter today! Catch all of PCstats latest hardware reviews right here.