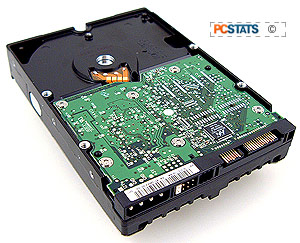 As you might expect, the WD740 Raptors run hot. Western Digital specs the drive to operate between 5 and 55 degrees Celsius, and in the open air (not installed in a case) our test drives reached a peak of about 47 Degrees during operation.
Considering that most 7200RPM drives can reach the same temperature level, this isn't all that worrysome. Obviously you do not want to stack these drives (or any 7200 or 10,000RPM drive for that matter) one on top of the other in an enclosed case, but if you give them a little airspace they should do fine without any form of HDD case fans, or adjacent active cooling.
In operation, the 74GB WD740 Raptors produce a slight high-pitched whine which was inaudible from a closed case or from more than a meter away. Drive access sounds were mostly inaudible unless we pressed our ear to the side of the drives. Overall, the pair of Raptors were exceptionally quiet in use. Not what we were expecting given the racket that 10,000 RPM SCSI drives used to make. Western Digital specifies 32dBA idle and 36dBA while in seek mode - both admirable acoustic figures for lower-noise computing requirements.
The 74GB WD740 Raptor can use both SATA and standard Molex power connectors, but obviously not both at once. Each drive came with an unusual blue 'SecureConnect' SATA cable with an interesting fastener that clips to the SATA power slot as well as the standard SATA plug.
Since the cable does not provide power, we assume that this serves the dual purpose of providing a firmer connection for the cable ("500%" firmer according to WD, and we kind of believe it) as well as preventing novice users from plugging in both SATA and Molex power connectors at once. This seems like a good idea to us and the cables certainly fit very securely. The motherboard side of the blue SATA cable is normal. Standard SATA cables can also be used with these drives of course.

The packaging included a copy of Western Digital's Digital Lifeguard software, which we have used in the past and found to be excellent. Also present is an informative and well written help sheet, printed on both sides and containing installation and configuration instructions for both the drives and the software.
Benchmarks and Test System
We tested the Western Digital WD740 Raptors both singly and in RAID 0 and 1 arrays. For comparative purposes, we also provide equivalent benchmarks for a pair of 80GB, 7200RPM Seagate Barracuda ST380013AS drives in the same set of configurations. All drives were defragmented between each test run. NTFS was used as the file system throughout. For our RAID tests, we used the VIA SATA RAID controller built into VT8237 Southbridge chip of the Soltek SL-K890Pro-939 motherboard.

PCStats Test System Specs:
Processor:

AMD Athlon 64 4000+

Clock Speed:

12 x 200 MHz = 2.4 GHz

Motherboards:

Soltek SL-K890PRO-939

Videocard:

Gigabyte GV-RX70P256V

Memory:

2x 512MB Mushkin PC3200

Hard Drives:

40GB Western Digital Special Ed (OS)
2 x Western Digital WD740 Raptor
2 x Seagate Barracuda ST380013AS

CDROM:
Aopen DVD-RW/CD-RW Combo Drive
PowerSupply:
Aopen SilentPower AO400 400 Watt
Software Setup

WindowsXP Build 2600
Via 6.00.1045
Catalyst xxx

Workstation Benchmarks

HDTach 3.0.1.0
SiSoft Sandra 2005
PCMark04
Winbench 99
Winbench 2004
IOMeter 2004.7.30