IOMeter is an open source input/output measuring tool for disk and network subsystem performance. The default benchmark is run for five minutes on each configuration.
IOMeter - Benchmark Results

Drives
I/O operations per second
Ranking
Seagate Barracuda ST380013AS (single)
79.8
Seagate Barracuda ST380013AS (RAID 0)
99.3
Seagate Barracuda ST380013AS (RAID 1)
79
Western Digital Raptor WD740 (single)
146.5
Western Digital Raptor WD740 (RAID 0)
158.1
Western Digital Raptor WD740 (RAID 1)
129.7
Another test where the sheer speed of the 74GB WD740 Raptors puts them ahead. IOMeter measures how many read and write operations per second each drive is able to process, and the Raptors come out far ahead of the 7200RPM Seagate drives.
Doom 3 is the most advanced game to date. it takes advantage of the latest videocard technology and pushes the processing power of the CPU to its absolute limit. At its highest setting, Ultra quality, texture sizes pass the 500MB mark which means even tomorrow's videocards will have a hard time running everything. The frame rates in the game itself are locked at 60 fps so anything above that point is wasted. Each test was run once.
Doom3
LQ 640x480:
FPS
Ranking
Western Digital Raptor WD740 (single)
89.5
Western Digital Raptor WD740 (RAID 0)
89.2
Western Digital Raptor WD740 (RAID 1)
89.5
Seagate Barracuda ST380013AS (single)
88.3
Seagate Barracuda ST380013AS (RAID 0)
85.2
Seagate Barracuda ST380013AS (RAID 1)
86.7
Well, hard disk performance seems to be fairly irrelevant to gaming benchmarks, but the Raptors manage to squeeze out a very slight performance advantage here. Honestly though, the only place a faster hard drive is likely to have any effect during gaming, is when loading maps.
Final Thoughts on the Raptor
The first obvious conclusion is that 74GB WD740 Raptor is one fast drives. As we rather anticipated they would, the 10,000RPM Western Digital Raptor WD740s consistently out-paced the 7200RPM 80GB Seagate drives in almost every test.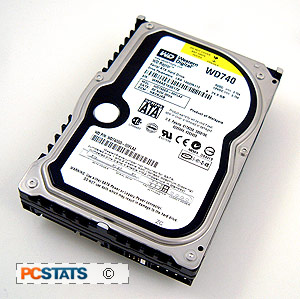 What was more impressive was that the WD740 Raptor drive was also quieter and didn't produce much more heat than the lower-RPM Seagate units.
The SATA interface obviously has a fine future for business applications. As this pair of WD740 10,000RPM drives has showed, you can now bring enterprise level hard disk performance down to the average desktop or workstation without spending hundreds on a SCSI controller. SATA II adoption is just around the corner, so things are only going to get better.
While quick hard drives certainly help a system out, the Western Digital WD740 Raptor drives are not going to speed up everything in your PC, as our Winstone and Doom3 benchmarks illustrated. That being said, in hard drive intensive tasks like file and database applications, the extra spindle speed will certainly give you a leg up.
At a retail cost of about $215CAN ($175US) each, the Western Digital Raptor WD740 hard drive commands a price premium, but that is justified by its speed over comparable SATA and parallel ATA hard drives. If you know you need hard drive speed for your applications, or you just want your desktop to feel a little bit 'snappier', consider investing in one, or a RAID'd pair of these speedy dinosaurs.
Find out about this and many other reviews by joining the Weekly PCstats.com Newsletter today! Catch all of PCstats latest hardware reviews right here.