Our favourite part of the Asus Vento 3600 case is the front. Note the twin 'air-scoop' vents at the bottom sandwiching the four USB 2.0 ports and audio connectors. The vent on the left hand side has an internal fan which pulls air into the case. The plastic fins inside the vents glow with a dull white light when the case is powered up, and the nice big power button has a halo of brighter white light also.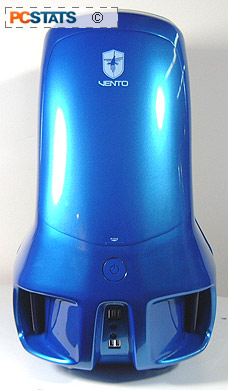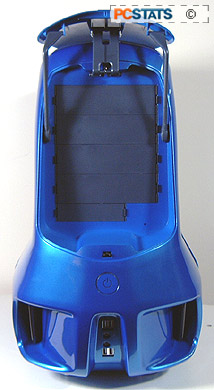 Pressing on the plastic bar below the 'push' label unlatches the front hatch, allowing it to spring up and over the top of the case and reveal the drive bays. The drive bays are protected by black plastic bay covers that can be easily unhooked from the outside with plastic tabs on either side.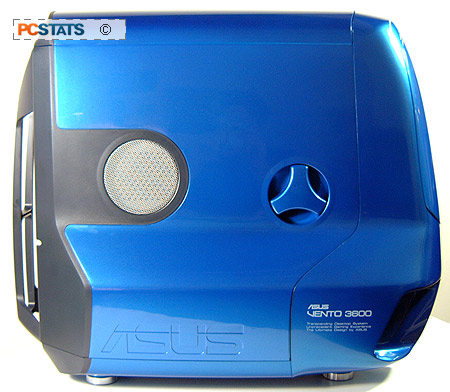 The side swivel handle allows you to easily open the side panel (provided you have removed the single screw from the back of the panel). Rotating this handle in a clockwise direction smoothly unlatches the panel and pulls it back a few inches for removal. Cool!
The metal grill covers the CPU air vent in the metal chassis below, furthermore this has a conical wind tunnel attached on the other side of the panel. This configuration effectively feeds fresh air straight to the processor heatsink as the vent is positioned right over it. We like the bold ASUS logo on the bottom of the case, but as we've said, we could do without the tacky advertising copy stencilled to the right of it.