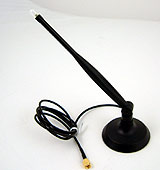 The 3dB gain antenna connects to the card via about three feet of flexible cabling. It has a hinge that allows it to bend 90 degrees in one direction and a magnetic base that allows it to clamp securely to just about any metal surface, including the back or side of the PC case. This is a thoughtful addition by Gigabyte.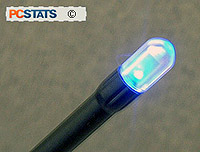 The blue LED that tips the antennae flashes on and off quite a bit during normal use. While it is not overly bright, we started to find the effect rather annoying after a while. It would be nice if there was a way to turn this feature off.
The included quickstart guide is brief and to the point, but could have been better written and illustrated. It does the job adequately though. The on-CD manual was very well written and illustrated and quite comprehensive and helpful, but was missing a lot of detail on some key points like WDS and adding static routes.
Installation and setup
The AirCruiser GN-BC01 is an interesting device, because although it plugs into your computer's PCI bus, it does not actually need any form of software or drivers. Plug-and-play in Windows will not detect this card because it does not actually use the PCI bus to send or receive data. Essentially it uses your computer as a mounting bracket and power supply. Windows does not even acknowledge that the card exists.
To connect to the Internet through the AirCruiser GN-BC01, your system will still require a working wired or wireless Ethernet adaptor, as the AirCruiser GN-BC01 does not act as any sort of network adaptor for your computer. You use the included patch cable to connect the router's LAN Ethernet port to your Ethernet adaptor.
The Gigabyte AirCruiser GN-BC01 uses the company's proprietary 'Smart Setup 3' software. Once you have connected your Ethernet adaptor to the router, you open a browser window and enter '192.168.1.254' to connect to the internal control panel of the device.
(Note that this assumes that the network adaptor on your computer is set to receive an IP address automatically through DHCP. If you use a static address for your network card, you will need to change it to '192.168.1.xxx' where xxx is a number between 2 and 253.)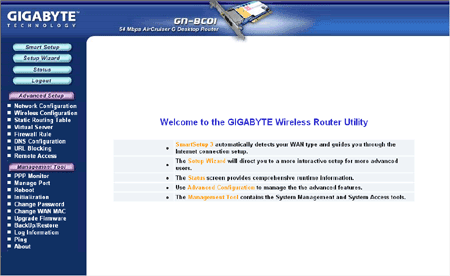 Entering the previous address in your browser connects to the AirCruiser GN-BC01 and starts the smart setup utility. This will detect the nature of your Internet connection and prompt you for the relevant information if necessary. Once this information is entered, you are brought to the main screen of the AirCruiser GN-BC01's internal control software.