The AirCruiser GN-BC01 supports both 64-bit/128-bit WEP and WPA wireless encryption methods for security.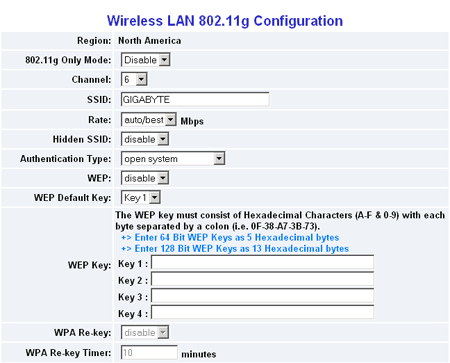 MAC address control can be implemented to allow only certain wireless adaptors to connect, and the SSID of the wireless network can be hidden. All of these controls are easily set through the 'wireless network' menu section.
URL Blocking and VPNs

The built in URL blocking feature worked fairly well and was easy to use. It allows you to block specific addresses, or by a keyword like 'naughty.' As a test we blocked out the keyword 'NBA.'
As you would expect, we were unable to access either the NBA site or any NBA team sites, and the basketball section of the major sports websites were off limits to us as well. We could sneak in the back door with the sports sections of some newspaper sites, since the blocking applies only to the URL (address line) and not the contents of the site. A great feature for parents or concerned owners.
The VPN pass through function of the Gigabyte AirCruiser GN-BC01 worked well, as we experienced no problem in configuring PPTP and L2TP Virtual private networks to pass through the router's firewall. Simply entering the internal IP address of the computer to receive VPN traffic on the router and entering the router's address on the external computer sufficed. Note that only a single computer can be configured as the source/recipient of these encrypted connections.