Abstract: his device incorporates a fully wireless home router/Internet sharing device onto a PCI card which you install directly into your desktop.
85% Rating:
Home > Reviews > Networking > Gigabyte GN-BC01
Wireless Networking performance tests
We benchmarked the Gigabyte AirCruiser GN-BC01 using NetIQ to test the average throughput and response time of the wireless connection, as well as the transfer of an 11.8MB file to test real-world performance.

For the following benchmarks, we used an 802.11g card (A Gigabyte GN-WPKG) and an 802.11b card (A Gigabyte USB wireless adaptor) both installed IN the computer containing the router to minimize the unpredictable effect of distance on the results. The router was connected to a second computer over a standard wired 10/100 Ethernet connection. We also tested the performance of the AirCruiser GN-BC01 with WEP and WPA enabled as we wanted to see how the encryption impacted the performance of the device.
802.11g Wireless Network NetIQ Tests

Gigabyte AirCruiser GN-BC01 Router to:

802.11g
WiFi Card

Average Throughput
22.4 Mbps
Response Time
1 ms
11.8Mb Test file transfer
~5 sec
Gigabyte AirCruiser GN-BC01 router with 64-bit WEP to:
WEP Average Throughput
21.5 Mbps
WEP Response Time
1 ms
WEP 11.8Mb Test file transfer
~6sec
Gigabyte AirCruiser GN-BC01 router, 128-bit WEP to:
WEP Average Throughput
20.3 Mbps
WEP Response Time
2 ms
WEP 11.8Mb Test file transfer
~6sec
Gigabyte AirCruiser GN-BC01 router, 128-bit WPA-PSK to:
WPA Average Throughput
18.5 Mbps
WPA Response Time
2 ms
WPA 11.8Mb Test file transfer
~7sec
Gigabyte AirCruiser GN-BC01 Router to:
802.11b
WiFi key
Average Throughput
5.1 Mbps
Response Time
3 ms
11.8Mb Test file transfer
~16sec
Ethernet Reference:
10/100 Wired Ethernet (typical)

61.5 Mbps

Wired Response Time

1ms
The Gigabyte AirCruiser GN-BC01 performed well in the file transfer tests, putting up very solid numbers for a wireless 'g' product.
Wireless signal range
To test the range of the Gigabyte AirCruiser GN-BC01 as well as its ability to function while the power to its host computer is off, we used an Intel wireless card integrated into a Samsung notebook computer based on the Intel Centrino chipset. Roaming around our office (and eventually outside it) we discovered that the AirCruiser's range with the high gain antenna is, in a word, excellent.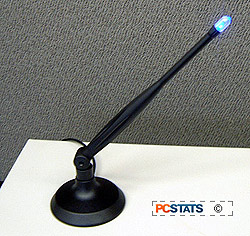 Placing the antennae about 5.5 feet above the ground, we were able to cover our whole office and most of the surrounding building with the network. That's at least 100ft of range... Very impressive!
Conclusions:
The Gigabyte AirCruiser GN-BC01 is a flexible home routing and Internet sharing solution which just happens to go on the inside of your computer rather than the outside. Apart from this wrinkle, it's an excellent networking product with the best potential coverage of any 802.11g router we've yet tested. Another area it shines is in file transfer speed and its range of uncommon (for a home routing product) features.
The AirCruiser GN-BC01 is certainly suitable for networking beginners as well, since it features automatic network configuration and an internal interface that's easy to manage. Of course, networking beginners might not want to crack open their systems and install it, but that's beside the point.
Our major concern with this product was the severe lack of options for configuring the hardware firewall. You can't even turn the firewall off, as far as we can tell, which severely limits this products use as an inter-network router. If you plan to use VOIP or other network intensive applications, you may want to consult with Gigabyte ahead of time.
At a price of around USD$62 ($75CAN), the Gigabyte AirCruiser GN-BC01 is priced well for the market, especially considering its excellent coverage. If you need a wireless home router with some additional flexibility and like the idea of an all-internal solution, the AirCruiser GN-BC01 is easy to recommend.
Find out about this and many other reviews by joining the Weekly PCstats.com Newsletter today! Catch all of PCstats latest hardware reviews right here.
Related Articles
Here are a few other articles that you might enjoy as well...
1. MSI SW8G 8-Port Gigabit Ethernet Switch Review
2.
3. Transcend Wireless 128MB JetFlash Review
4. Gigabyte GN-B49G 802.11g Wireless Router Review
5. Actiontec HomePlug Networking Kit Review
SEARCH PCSTATS

---

Use the power of Google to search all of PCSTATS and the PCSTATS Forums. Tell us what you think of this new feature - FEEDBACK?