The 925X chipset is Intel's current high-end 'enthusiast' part, taking the place of the i875P chipset. In addition to the features that it shares with the 915 chipset, the 925X was the first chipset to support the 1066MHz frontside bus processors when they first became available.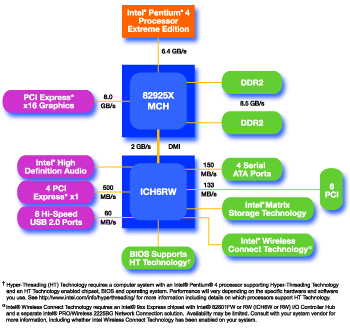 The 925X supports dual-channel DDR2 memory and PCI Express graphics solutions only, dropping the mainstream flexibility of the 915 parts in favour of increased performance.
Like its sister chipset, the 925X uses the ICH6 Southbridge chip, often the '-R' version with RAID support given the target market of enthusiasts and power users. Intel's 8-channel High Definition Audio is also a standard.
More on the ICH6 Southbridge
Intel's ICH6 Southbridge chip represents several steps forward in terms of design. It introduced support for several features, most significantly PCI Express in the form of four PCI Express 1X channels. This allows manufacturers to add as many as four PCI Express 1X slots onto motherboards, in addition to the standard PCI expansion slots. The Southbridge does not support gigabit Ethernet internally, settling for the standard 10/100 instead.
Elsewhere, it becomes obvious that Intel intended the 915 and 925X to run mostly with Serial ATA hard drives, as the standard ICH6 chip supports four channels of serial ATA and only a single IDE channel intended mostly for optical drives. Many manufacturers have chosen to bolt on various add-on IDE controllers, since the older standard seems to be a long way from disappearing. The serial ATA ports will use Intel's new AHCI (Advanced Host Controller Interface).
Eight USB 2.0 ports are supported, a number that should satisfy most any user's requirements. Legacy PCI ports are also supported. The ICH6 Southbridge uses an entirely new interface to pass data to the Northbridge chip. The large amount of new interfaces that the Southbridge supports necessitated this to avoid data bottlenecks. Intel's DMI (Direct Media Interface) is a serial point-to-point connection somewhat similar in approach to PCI Express, and delivers comparable (and much needed) bandwidth improvements, to the tune of 2GB/s.
A few variants to the standard ICH6 are also available: The ICH6-W, ICH6-R and ICH6-RW. The most interesting of these is the ICH6-W version, which adds wireless access point functionality to the chipset. While the Southbridge does not include an actual wireless transmitter (users need to purchase a wireless network card or a motherboard which has one built in), when it is attached to one, the computer can act as the 'hub' to a wireless home or business network, killing several birds with one stone. Sensibly, Intel has indicated that this feature will be turned off by default on supporting chipsets, since while convenient, it also creates a huge security risk for users who are not aware of wireless networking procedures.
The ICH6-R is the RAID oriented version of the Southbridge, and adds support for RAID 0,1 and 0+1 modes. This offers excellent performance and data security possibilities for home users. (For more information on RAID see PCSTATS' Guide). The ICH6-RW chip brings all of the above features together.
More on PCI Express
(for an in-depth look at this subject, see our article on PCI Express technology here.)
PCI Express is a data bus technology that uses matched pairs of point-to-point serial connections to carry data. Each wire carries data in one direction only. The data connections can be stacked to provide higher bandwidth links. A PCI Express x1 connection would have a single pair, for example, giving a total bandwidth of 2.5Gb/s. A PCI Express x2 or PCI Express x4 connection would have double or quadruple the amount of pairs respectively, increasing maximum bandwidth.
PCI Express is intended to adopt several roles within modern chipsets and motherboards. Most significantly, PCI Express 16X links at 4-5GB/s bandwidth are in the process of replacing the AGP 8X standard. The 915 and 925X are the flagships for this technology, and were the first to use this new connector instead of the AGP 8X slot. PCI Express 16X provides significantly more bandwidth, allowing video card manufacturers more headroom to improve graphics performance in the future.
PCI Express 1X slots are now integrated into 915 and 925X motherboards alongside the more familiar PCI slots. The increased data handling capacity of these connectors will allow standard desktop PCs to use high-bandwidth peripherals like Gigabit Ethernet cards without needing a specialized interface.
More on DDR2
(for an in-depth look at how DDR2 memory functions, see our technology preview here)
As we mentioned, DDR2 is an incremental improvement to the current DDR standard, not a radical one. The problem with DDR is that it becomes difficult and expensive for manufacturers to make DDR memory rated for higher speeds than 200MHz (DDR-400), since the margin for error decreases as the speed rises. DDR2 solves this problem by reducing the speed at which the memory runs internally by half, but doubling the amount of data that is moved from the core memory to the external memory bus. This allows memory makers to keep ramping up the speed of the memory externally, while the lower internal speed of DDR2 keeps costs down and yields high.
The only downside to this is that DDR2 does not present any actual performance improvement over DDR, at least not currently. Its only advantage is its ability to support higher memory speeds. DDR2 memory is already available from major memory manufacturers, though costs are still sky high. Look for them to drop considerably once the major chipset manufacturers manage to get AMD 64 DDR2 chipsets out.