Up to this point, everything is as expected. Newer GPU equals more pixels per clock plus more bandwidth equals faster. Duh. Hold on there though... Things might not be quite as they seem.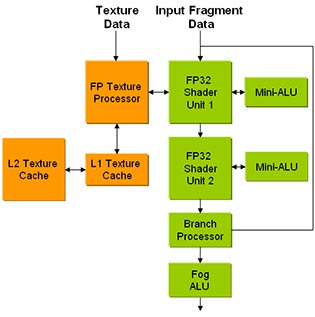 The 7800GTX actually marks a significant shift in emphasis by the nVidia design team towards effects and shader tricks as opposed to raw rendering power.
Yes, the GPU is faster than its predecessors (and apparently its current ATI competitors) and will get faster still, but the most significant architectural increase is inside the pixel pipelines. The eight additional pixel shader pipelines do massively increase fill rate, but all the pipelines benefit from a major internal improvement: enhanced MADD (Multiplication-ADDition) capabilities.
Each pixel pipeline has two ALUs (Arithmetic Logic Units) which perform adding and multiplying operations on each pixel to apply various graphical effects. In the 6800 GPU, only one of these ALUs could perform true MADD (both multiplying and adding) operations which are important to many 3D effects. With the 7800GTX, both ALUs are capable of 2 MADD operations each, vastly increasing the power of the GPU in certain operations which nVidia feels will be necessary for gaming in the future.
This improvement to the pixel pipelines does not increase the overall fill rate, but it does affect what the GPU can do with each pixel on each clock cycle. The additional MADD operations will allow for much faster rendering of complex transform and lighting effects and image maps, which sheer fill rate alone cannot compensate for.
CineFX4.0/Shader Model 3.0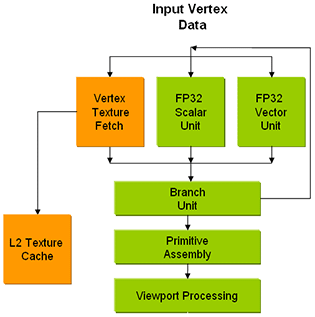 Speaking of complex transform and lighting effects, the 7800 GPU features full support for the DirectX Shader Model 3.0 and optimizations for several of the latest advances in eye candy such as HDR (High Dynamic Range) lighting, subsurface scattering and nVidia's UltraShadow II technology.
These technologies also worked fine with the 6800-series GPUs, but often with a performance hit that substantially reduced the gaming experience.
Vertex Boosting
Nvidia has apparently increased the speed and efficiency of certain vertex shader operations, resulting in an overall boost to their output. The texture engine has also undergone an overhaul, with non-specific increases to its speed and efficiency stated.
I can see right through you...! nVidia's new transparent Anti-aliasing technology
With the introduction of the 7800 GPU, nVidia also debuts two new Anti-Aliasing technologies, transparency adaptive supersampling and transparency adaptive multisampling (TRSS and TRMS respectively). These provide a potential solution to what has long been a thorny image quality problem: The difficulty of anti-aliasing pixels inside a polygon.
Conventional multi-sampling AA only performs anti-aliasing on pixels detected to be at the edge of a given polygon, incurring less of a performance hit but only applying the smoothing effect of AA to the edges of 3D objects. This is fine for a solid 3D object such as a wall or tree, but what about grass? Or leaves? Or a chain link fence like the thousands found in the world's most action packed fence simulator (Half-Life 2)?