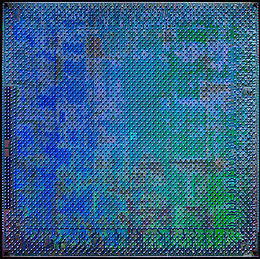 The 7800GTX does not require any more power than the 6800Ultra, at least according to nVidia. The minimum required power supply wattage for a 7800GTX system is 350Watts, same as the the 6800Ultra.
How is this possible? NVidia has used a combination of the lower power requirements of the 110nm process and a clock gating mechanism (clock gating involves turning off or slowing the clock signal to certain units of an integrated circuit when they are not being used), to achieve a notable milestone: higher performance at slightly lower power levels.
This means that nVidia was able to make its reference 7800GTX card without using an enormous heatsink, so it will not dominate the empty slot next to it on your motherboard. The 7800 GPU might have a bright future with nVidia's mobile line of graphics products too.
Short end of LongHorn?
The nVidia Geforce 7800GTX also integrates support for the new graphical features that will be introduced with Windows Longhorn and its Windows Graphics Foundation API, including the off loading of the desktop rendering load to the GPU and the (potential) ability to page 3D graphics into the system's virtual memory.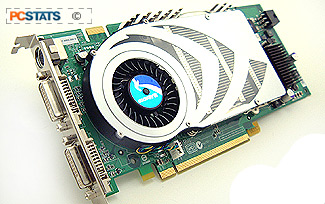 Obviously, these features are only really going to be useful with the 3D desktops that Longhorn is supposed to make routine, but equally obviously the 7800GTX graphics processor is going to be mostly obsolete by the time Microsoft gets around to releasing Longhorn, so we won't put much more effort into describing the ways they could work together.
The 7800GTX is the new fastest videocard available, both on paper and in benchmarks from reviews on the web. It's got a price to match, but ATI will have to drop its prices some as the X850XT PE is not significantly cheaper.
Of course, the 7800GTX represents only the first salvo in this year's version of the video card wars, and we will be waiting with baited breathe for ATI's response and benchmarks from its CrossFire dual-card technology. As summer 2005 moves on, things should be heating up in more ways than one!
Find out about this and many other reviews by joining the Weekly PCstats.com Newsletter today! Catch all of PCstats latest hardware reviews right here.
Related Articles
Here are a few other articles that you might enjoy as well...
1. MSI Radeon RX850XT-TD256E Review
2. MSI Radeon RX800XL-VT2D256E Review
3. Asus Extreme N6600TOP/TD/128M/A Videocard Review
4. MSI NX6800GT-T2D256E Geforce 6800GT Videocard Review
5. Gigabyte GV-RX80L256V Radeon X800XL Videocard Review