Overclocking Results:
MSI motherboards are generally good at overclocking, and our initial expectations for what the MSI P4N Diamond with its nVidia NF4-SLI Intel Edition chipset were pretty high from the outset. Before we started to push the motherboard though I first lowered the memory operating frequency to run at 400 MHz. This will cause performance to suffer slightly, but we are interested only in the maximum motherboard speed, not benchmark numbers here. ;-)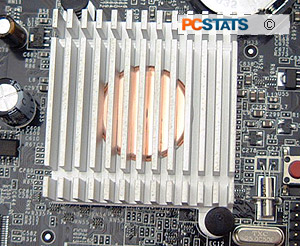 Starting at 200 MHz we slowly increased the FSB in ~5 MHz intervals. It was not long before we hit our first snag at 217 MHz. The system would BSOD while loading Windows but increasing the NF4-SLI chipset voltage to 1.6V solved that. After that minor glitch, everything was smooth sailing and the MSI P4N Diamond was a delight to overclock.
At 232 MHz the processor started to give us the occasional BSOD while running benchmarks, so a little tweak to CPU voltage (to 1.45V) set things straight. At 247 MHz the motherboard had problems POSTing and locked up in the BIOS (which was very frustrating)... increasing the chipset voltage to 1.8V solved this.
In the end the MSI P4N Diamond motherboard overclocked to a top speed of 253 MHz, very good for an Intel-based platform! Considering that we tested with a dual core Pentium D 840 which is running at over 4 GHz, I think you'll agree the results speak for themselves.
The Powerful MSI BIOS:
MSI has always put together a pretty decent BIOS, and the version installed onto the MSI P4N Diamond motherboard will keep tweakers happy. We see the usual DDR2 memory timing tweaks such as CAS Latency, RAS to CAS Delay and Row Precharge.
FSB settings for the MSI P4N Diamond can be tuned between 400 and 1400 in 1 MHz increments. Now don't let the numbers fool you, the system uses quad pumped numbers which is why it sounds faster. Quad pumped numbers are basically the FSB speed multiplied by 4 - or in other words the processor bus speed. Memory frequency can be tuned between 400 and 900 MHz, but you have to enter the value you want to use.
The MSI P4N Diamond has some decent voltage options as well. Maximum CPU voltage can go as high as 1.7V. DDR voltage to 2.4V and Northbridge to 1.7V!
Something else we found in the P4N Diamond BIOS was the ability to automatically overclock the core and memory of NV4x videocards dynamically. Very cool. Traditionally motherboard manufacturers limit 'dynamic overclocking' to the board and CPU itself. In this case, MSI spices things up by allowing users to overclock videocards dynamically. The feature did not seem to work with the 7800GTX's we tested with, but we did notice some decent increases (up to 11% on both core and memory) with a MSI GeForce 6800GT videocard.

PCStats Test System Specs:
Processor:

Intel Pentium 4 D 840

Clock Speed:

16 x 200 MHz = 3.2 GHz

Motherboards:

Foxconn 955X7AA-8EKRS2 (955X)
Foxconn 945P7AA-8EKRS2 (945P)
Gigabyte GA-8N-SLI Royal (NF4-SLI)
MSI P4N Diamond (NF4 SLI

Videocard:

MSI NX7800GTX-VT2D256E

Memory:

2x 512MB Crucial Ballistix PC5300 DDR2

Hard Drive:
74GB Western Digital Raptor SATA
CDROM:
AOpen Combo 52x
Heatsink:
Thermaltake Jungle 512
PowerSupply:
Akasa PowerPlus AK-P550FF PSI
Software Setup

WindowsXP
VIA 4in1 4.55V
Forceware 6.53
Catalyst 5.4

Workstation Benchmarks

SYSMark 2004
Business Winstone 2004
Content Creation 2004
Super Pi
SiSoft Sandra 2005
PCMark04
3DMark2001SE
3DMark05
AquaMark3
Comanche 4
X2: The Threat
UT2003
UT2004
Doom 3