Magic Tune 3.6 makes virtually all of the adjustments an LCD display would reasonably require, available through a software interface of quick wizards and user friendly adjustment consols.

In spite of the hassle of installing software to adjust the LCD properties, Magic Tune 3.6's wizards will assist even the most novice user to achieve a properly adjusted screen. Should a users' PC only have an analog videocard connection, the MagicTune software is an annoying necessity. With a DVI video connection, it becomes more of an option if one wants to take full advantage of the display controls.
Samsung's Magic Tune 3.6 software has a few more options for PCs running with an analog video connection; including geometry, colour temperature, primary colours, and a few other settings we've already mentioned. Being that the Samsung 173P is equipped with both a DVI and Analog interface at the rear of its circular, aluminum encapsulated stand, DVI is certainly the recommend way to go.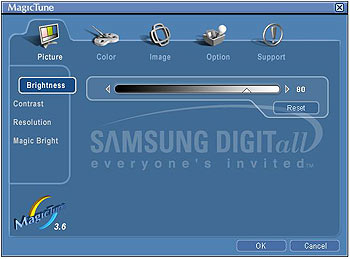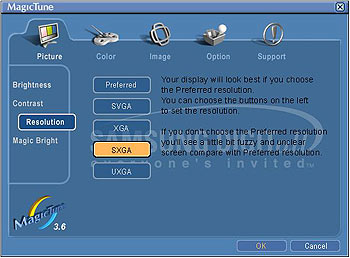 The Picture control screens allow users to make a bevy of adjustments to the screen brightness, contrast, resolution, and screen format settings.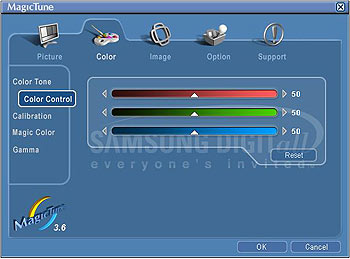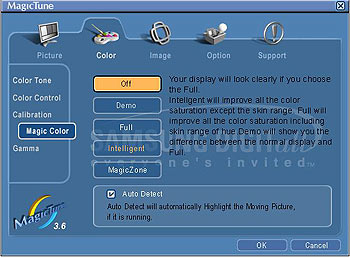 Colour controls are pretty versatile in Magic Tune 3.6. Users can manually adjust colour saturation, tone, calibration and gamma. Magic Color allows for some special task-specific colour control.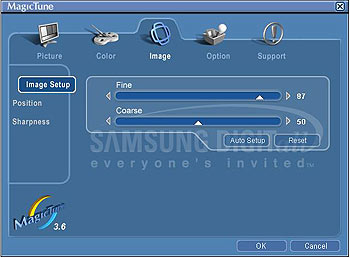 Image controls consist of sharpness, position, and moire adjustments. With LCD displays, there is virtually no reason for any user to actually use this menu screen. Auto adjustment controls take care of everything.
For the sake of convenience, the power button on the Samsung Syncmaster 173P+ display also functions as a means of cycling between Analog and Digital sources. When the Samsung 173P+ monitor is switched over to the analog connection, the power button if held down for 3 seconds will force the display to quickly run through the Auto Calibration mode to ensure the picture is centered, the phase and clock are appropriate for the resolution. This takes about 2 seconds. Since the native setting is 1280x1024 pixels, the visual quality will be best when the resolution matches.