Doom 3 is the most advanced game to date. it takes advantage of the latest videocard technology and pushes the processing power of the CPU to its absolute limit. At its highest setting, Ultra quality, texture sizes pass the 500MB mark which means even tomorrow's videocards will have a hard time running everything. The frame rates in the game itself are locked at 60 fps so anything above that point is wasted. Each test is run three times with the third run being recorded.
Doom3
LQ 640x480:
FPS
Ranking
Foxconn 955X7AA-8EKRS2 (955X 200/667)
96.9
Foxconn 945P7AA-8EKRS2 (945P 200/667)
94.3
MSI P4N Diamond (NF4 SLI 200/800)
97.3
Epox 5NVA+ SLI (NF4 SLI 200/800)
96.2
Foxconn NF4SLI7AA-8EKRS2 (NF4 SLI 200/800)
95.9
AOpen i945Ga-PHS (945G 200/667 Onboard Video)
15.5
AOpen i945Ga-PHS (945G 200/667 7800 GTX)
91.1
Doom 3 is too much for the integrated i945G videocard. When a GeForce 7800GTX videocard is installed framerates jump dramatically. The test results for the AOpen i945Ga-PHS motherboard are still just slightly lower than the other reference systems which is a little surprising.
AOpen i945Ga-PHS Motherboard: good but with a few quirks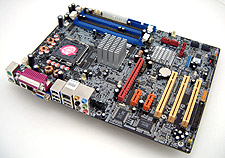 In the last year or so we have witnessed many predominantly OEM companies focus more attention to the retail market. Manufacturers like Foxconn, ECS and AOpen are intent in capturing their part of the retail market.
The AOpen i945Ga-PHS motherboard is a good solution for multimedia enthusiasts. Thanks to its compatibility with dual core processors, it has plenty of power for everyday applications. Based on the Intel i945G core logic, the i945Ga-PHS motherboard accomodates Socket 775 Pentium 4 processors on a variety of FSBs. It functions with up to 4GB of DDR 2 memory.
The integrated Intel GMA 950 videocard is weak where 3D tasks are concerned, but sufficient for office applications and other 2D tasks. The best aspect of the i945Ga-PHS motherboard is the inclusion of a Chrontel CH7021A-TEF video output chipset. This little IC allows users to hook up the i945Ga-PHS motherboard to a Television via S-Video, Composite or Component (Y, Pb, Pr) cable. Talk about a multimedia power house! The AOpen i945Ga-PHS motherboard has a retail price of $175 CDN ($149 US).
AOpen motherboards tend to be pretty user friendly and this is mainly true when dealing with the i945Ga-PHS. When it comes to using a stand alone PCI Express x16 videocard, AOpen really dropped the ball. No where in its Quick Install Guide or User's manual was there mention of moving jumpers.... an omission that while minor in scope is pretty significant if the user can't otherwise access the information.
The AOpen i945Ga-PHS also seemed to have a small FPU performance issue, that resulted in the board pretty much taking up last in every benchmark by a small percentage. SiSoft Sandra, PCMark04/05 all reported lower than usual memory bandwidth numbers and this affected the 3D tests as well. PCSTATS has been speaking with AOpen to try and figure out what the issue might be, but as of yet no firm cause has been nailed down.
Ultimately, the AOpen i945Ga-PHS motherboard has a lot of potential that is going to be left unrealized if these quirks are not ironed out.
Find out about this and many other reviews by joining the Weekly PCstats.com Newsletter today! Catch all of PCstats latest hardware reviews right here.
Related Articles
Here are a few other articles that you might enjoy as well...
1. MSI P4N Diamond NF4-SLI Intel Edition Motherboard Review
2. Epox 5NVA+ SLI NF4 Intel Edition Motherboard Review
3. Foxconn 945P7AA-8EKRS2 Motherboard Review
4. ECS PF88 Extreme Hybrid Intel/AMD Motherboard Review
5.Foxconn 955X7AA-8EKRS2 Intel 955X Motherboard Review