Overclocking Results:

The MSI NX7800GTX-VT2D512E Geforce 7800GTX videocard is already one wickedly fast piece of hardware, but PCSTATS would be remiss if we didn't attempt to overclock it now wouldn't we? Our experiences with GeForce 7800GTX 256MB models were bittersweet because the stock cooling solutions didn't really further the cause, so we're holing the cards close at hand this time around...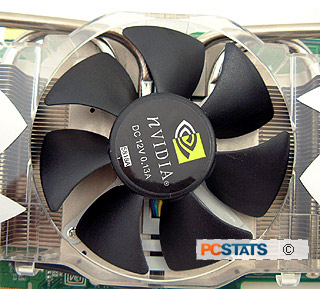 The GeForce 7800GTX core on the MSI NX7800GTX-VT2D512E is already clocked 120 MHz faster than 'stock', so head room is going to be tight. The core clock speed was increased in 2-3 MHz intervals until it passed the 600 MHz mark.
Good so far.
Continuing past 618 MHz proved to be totally futile. The MSI NX7800GTX-VT2D512E would start to throttle back, which was surprising since core temperatures apparently remained below 60 degrees Celsius.
Next up was the 512MB of GDDR3 memory which is clocked at 1700 MHz! Increasing that speed in 10 MHz intervals allowed us to move up a 100MHz pretty uneventfully. The GDDR3 craped out right at 1819 MHz though, with visual artifacts appearing if pushed a single megahertz further.
Considering how the previous GeForce 7800GTX 266MB videocards overclocked, it's refreshing to see the MSI NX7800GTX-VT2D512E do so well! End score: 618MHz GPU, 1819MHz memory.

PCStats Test System Specs:
Processor:

AMD Athlon64 4000+

Clock Speed:

12 x 200 MHz = 2.4 GHz

Motherboards:

Asus A8N-SLI Premium (NF4-SLI)

Videocard:

ATi Radeon X850 XT PE
MSI RX850XT-TD256E
MSI RX800XT-VTD256E
ATi Radeon X800 XL
PowerColor X700 PRO
MSI NX7800GTX-VT2D256E (Single Mode)
MSI NX7800GTX-VT2D256E (SLI Mode)
Asus EN7800GT 2DHTV/256M/OSP/A (Single Mode)
Asus EN7800GT 2DHTV/256M/OSP/A (SLI Mode)
MSI NX6800GT-T2D256E
MSI NX6800-TD128E (Single)
MSI NX6800-TD128E (SLI Mode)
MSI NX6600GT-TD128E (Single Mode)
MSI NX6600GT-TD128E (SLI Mode)
MSI NX7800GTX-VT2D512E

Memory:

2x 512MB OCZ PC3500GX Gold Memory

Hard Drive:
74GB WD Raptor 10k RPM SATA HDD
CDROM:
AOpen 52x Combo
PowerSupply:
PC Power & Cooling TurboCool 510 SLI
Heatsink:
Stock Athlon64 4000+ HSF
Software Setup

WindowsXP Build 2600
nForce4 6.53
Catalyst 5.10
Detonator 78.01

Benchmarks

3DMark03
3DMark05
AquaMark3
Halo
FarCry
Splinter Cell: Chaos Theory
Doom 3
FEAR
Quake 4


AA+AF Benchmarks
FarCry
FEAR
Doom 3