Another voltage related feature that's noticeably missing from the DFI LANPartyUT NF4 SLI-DR Expert is the 5V memory jumper. The (dangerously) high memory voltage options are still available, they're just selected in the BIOS.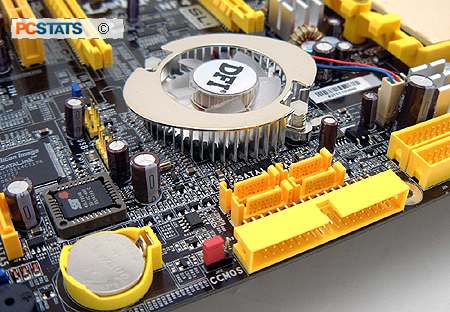 These days having a fast computer is not enough, it also has to have components that look good. With UV reactive slots and cables, the DFI LANPartyUT NF4 SLI-DR Expert will look totally awesome under a UV light through the case window. Rounded IDE and floppy cables in bright shinny yellow tubing are included with the board too.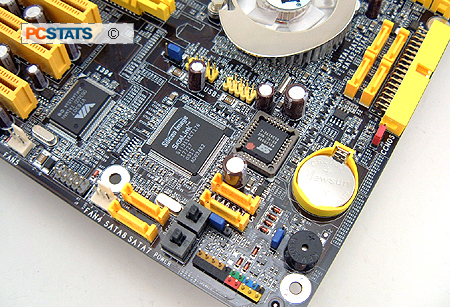 Considering that the DFI LANPartyUT NF4 SLI-DR Expert is aimed squarely at high end computer enthusiasts, it is pleasing to see that the user's manual is comprehensive. From hardware installation to BIOS setup and software configuration, the manual will be able to help even experienced users navigate through all the mobo's features and options. The quick installation guide is handy, but some of the imagery is a little small to see clearly. To make the process of tweaking and adjusting the system a little easier, DFI has installed power and reset switches directly on the motherboard, which is a much nicer alternative to shorting out jumper pins. Additionally, the CMOS reset is designated by a red jumper, and located in a very accessible position next to the CMOS battery.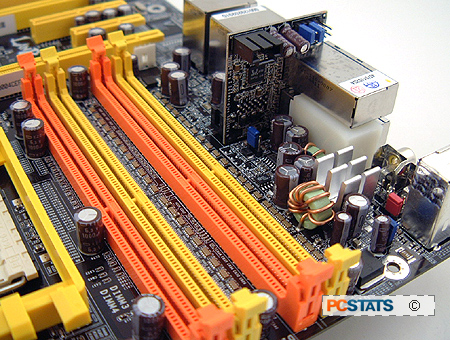 The quality of ESR capacitors is a big issue these days, and DFI equips the LANPartyUT NF4 SLI-DR Expert with mainly KZG branded capacitors. There are videocard style capacitors around the CPU socket, but none have identifying marks. In any case, DFI has guarantees that the capacitors used on the LANPartyUT NF4 SLI-DR Expert are all Japanese made. Traditionally, Japanese capacitors adhere to higher quality standards than capacitors made from other countries.
Make sure you check out the expert tips on HTT frequency, memory voltages and DIMM placement later in this review, next we tackle onboard features and overclocking...