I'm sure hardware enthusiasts will appreciate the extra space between each of the PCI Express x16 videocard slots on the LANPartyUT NF4 SLI-DR Expert. This time around DFI have positioned two PCI-E expansion slots between the PCI Express x16 slots. There is enough space between SLI'd videocards for dual-slot cooling solutions, after market heatsinks or water blocks.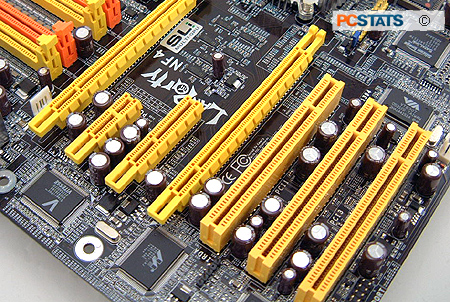 Probably the biggest gripe from users of the older LANParty NF4 SLI-DR was having to fiddle around with SLI jumpers. Moving six sets of jumpers is a chore even with an extraction tool.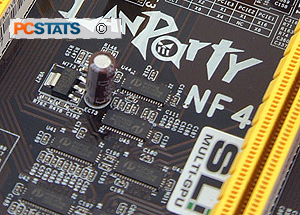 DFI has done away with the SLI jumpers on the LANPartyUT NF4 SLI-DR Expert motherboard, and instead relies upon six Pericom chips which digitally switch between running videocards in SLI or not.
PCI Express peripherals are still a little difficult to find, but a few PCI-E x1 network and SATA devices are starting to show up in stores. After all, the bandwidth and speed advantages should be enough to win over the market.
When that time does come the DFI LANPartyUT NF4 SLI-DR Expert is ready to rock and roll with a PCI Express x1 (which can provide 250 MB/s) or PCI Express x4 device (1 GB/s total bandwidth).

The three 32 bit PCI slots allow users to install older style expansion cards.
The PCI Silicon Image SiI3114 Serial ATA RAID controller gives users the ability to attach four more SATA hard drives to the motherboard, and the ability to run RAID modes 0, 1, 0+1 and 5. This is in addition to the four SATA drives the nForce 4-SLI chipset already supports.
Overclockers should appreciate the fact that this board has five fan headers in various locations ready to be used. Considering how important cooling is to hardware enthusiasts, this allows users to monitor fan rotation speeds as well as gives them the ability to change settings.
Experts Tip: Memory in Channel A and B
DFI motherboards are like car racing engines and require a lot of tweaking and testing. One consensus about DFI LANParty NF4 motherboards is that certain memory runs better in certain slots. Low latency memory (like modules based on BH6/5/UTT) tends to perform slightly better in the yellow slots while Samsung TCCD based DIMMs like the orange slots. Another thing to consider is place the weaker overclocking DIMM in the slot closest to the processor while keeping the colour information in mind.
Comments and Feedback? Suggest a Tweak.
If there is anything to complain about with the DFI LANPartyUT NF4 SLI-DR Expert, it would have to be the quality of the rounded IDE cables. DFI should include higher quality cables like it did with its earlier LANParty motherboards. The cables that are included in the bundle are simply folded IDE cables wrapped with a UV reactive tubing.
It's a minor issue, but why should we enthusiasts select a motherboard which comes with sub-par accessories? Seriously though, the board is good, but the "rounded" cables might as well be tossed into the rubbish.
Up next is a round of overclocking with one of the most exciting enthusiast-class motherboards to hit the market in a long time!