Overclocking Results:

DFI motherboards are built for overclocking, and in a way that makes it kind of exciting to have a another LANParty motherboard to play with. Before the overclocking process began though, we first lowered the CPU multiplier to 4x and set the memory to run in 100 MHz mode. This way neither the processor nor memory would hold the motherboard back. HypterTransport will be adjusted whenever necessary.

Starting at 200 MHz, the motherboard clock speed was increased in 10 MHz intervals - newbie overclockers should bump up the speed a little slower. HyperTransport traditionally doesn't like to run very fast, yet with the DFI LANPartyUT NF4 SLI-DR Expert it purred along smoothly at 250 MHz with the HTT multiplier at 5x still! Mighty impressive, but going much further than that required dropping the HTT multiplier to 4x.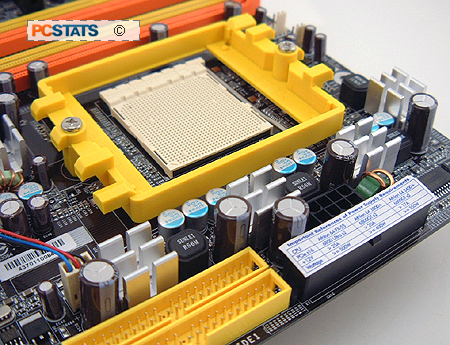 Continuing forward with this little overclocking adventure, the HTT multiplier was decreased to 3x at 320 MHz, and chipset voltage nudged to 1.65V. The temperature of the nForce4 SLI chipset stayed at about the same 40C mark even with the slightly higher voltage. The DFI LANPartyUT NF4 SLI-DR Expert stuttered badly at 400 MHz, and it turned out that the highest speed it would overclock to was 370 MHz.
Experts Tip: HyperTransport Speed and Overclocking
HyperTransport speed does not appear to adversely affect Socket 939 AMD Athlon64 processors in the way it did with earlier platforms. With that in mind, it's PCSTATS opinion that overclockers should not worry about the possible negative impact of lowering the HyperTransport frequency. Decreasing the multiplier lower results in a 2-3% performance decrease. If we take into consideration that a lowered HyperTransport speed usually allows an overclocked system to scale much higher, the end result can definitely be worth the sacrifice to HTT speeds.
Comments and Feedback? Suggest a Tweak.
I suppose 370 MHz is nothing to scoff at, most nForce4 SLI motherboards on store shelves won't come anywhere near that speed, but we were really left wanting a little more from this DFI motherboard considering the original LANPartyUT NF4 SLI-DR overclocked to 431MHz.
This is about where it comes in handy to have one of Extreme Cooling Technologies Prometeia Mach II GT's handy, along with a 'Clawhammer' AMD Athlon64 4000+ processors and some nice fast PDP Systems PC3200 DDR.
With that combination of hardware, a maximum speed of 3.06 GHz was possible. It's nice to see that the LANPartyUT NF4 SLI-DR Expert is not slower than the original LANParty NF4 SLI-DR motherboard... but both boards do max out at about the same speed. Next up we take a walk through the BIOS options for the LANPartyUT NF4 SLI-DR Expert motherboard.