Though both Windows Vista and other Windows operating systems will get copies of the Internet Explorer 7 browser, they will not be the same. Windows Vista is slated to make major changes to the way Windows handles data and runs its core processes, and the Vista version of Internet Explorer 7 will be commensurately different from its conventional Windows XP/2K sibling.
Featured additions in the Windows Vista version of IE7 include a 'protected mode' which isolates Internet Explorer from the registry and system files, restricting the browser from making changes to the operating system except when manually told to do so by the user. Remote controls and programs will not be able to use Internet Explorer as a gateway to corrupting the operating system, or at least that's the idea. We'll have more on this interesting feature later in the article.
Apparently, beta versions of Vista IE7 will be missing one feature available in the standalone version of the browser. The Phishing filter (philter?) will not be initially available for Windows Vista users. We'd imagine this feature will be added before the OS is officially released.
Vista Internet Explorer 7 will no doubt sport other differences and features, but the exact details are not yet known.
Add-on Security
Service Pack 2 for Windows XP introduced a Hijack-this style application for Internet Explorer 6 that allowed users to examine and control the add-ons and extensions installed in their version of IE. Internet Explorer 7 also includes this functionality, and plans to improve on it with several new features.
The first new feature is an 'add-on disabled' mode which shuts down all non-core Internet Explorer features including add-on toolbars and activeX controls. If you are paranoid about security, or suspect that a malicious add-on is causing trouble with your system, this option will be your first stop using Internet Explorer 7.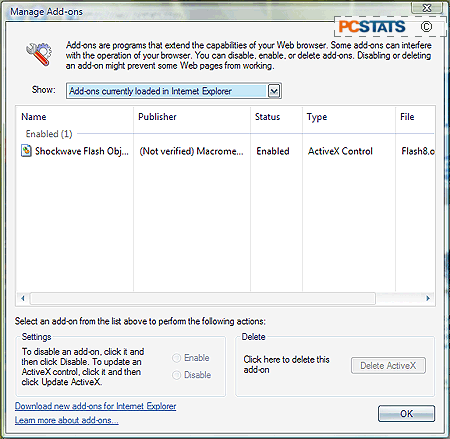 The add-on manager has also been revised and improved for Internet Explorer 7. As before, it will allow users to view and manage their Internet Explorer add-ons and Active X controls, but the interface has apparently been simplified and support for defining profiles and configurations has been added. This might not mean much to the average user, but it'll mean a great deal to system administrators who deal with the task of keeping IE safe in an enterprise environment.