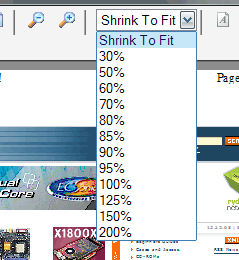 Internet Explorer 7 contains several new features designed to help the browser 'just work' better. Notable among these is a web page printing engine that will shrink large pages down automatically to fit within the margins of standard printer pager.
While this feature will not dispose of adverts or format text in the way a website's own 'printer friendly' article might, it should still make it easier to preserve portions of the web on paper.
The print preview option allows users to scale the webpage to fit a standard 8.5"x11" page, or enlarge it up to 200%. In the image below we have a couple examples of how this new printer friendly feature works in Internet Explorer 7.
The preview image at below-left is of PCSTATS as it would show up if printed at 100%. The webpage is wider than a single sheet of paper and consequently the right half of the page is cut off. This wastes paper and omits vital information, but it's what happens with the majority of webpages today.
With the default setting in Internet Explorer 7 being to "shrink to fit", the preview pane first displays the page at 100%, and if it's wider than a single page then scales it down to fit nicely within the margins. The image below-right shows what the printed page will look like when properly formatted (so long as 'print backgrounds' is turned on).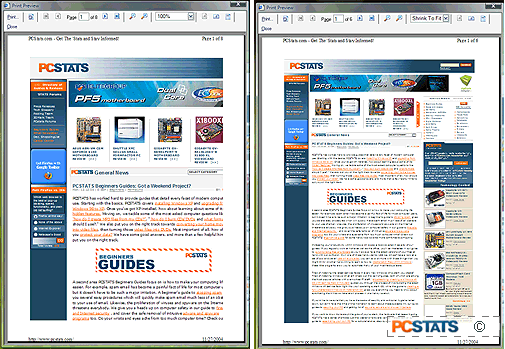 Internet Explorer 7's tabbed browsing system
Tabbed browsing has been with us for a while now in various alternative browsers, but the system only rose to prominence recently with the surge in the popularity of Firefox. Chances are that if you've tried the system, you love it, so it's good to see Microsoft incorporating their version into Internet Explorer 7.

If you've never tried it, tabbed browsing uses 'tabs', each of which represents a different web page. These tabs are stored under the address bar, and when clicked on, open that page in the main browser window. Instead of having multiple instances of the browser open, users can have a single browser window with tabs for each web page they are browsing. Generally, tabbed browsers contain options allowing new links to be opened in a tab instead of a new window. It seems like a simple addition, but in practice it makes surfing navigation much, much easier and simpler.
Microsoft has not revealed the full extent of tab support in Internet Explorer 7, but what's known from the first beta version is this: Tab support will be available, with a 'new tab' button on the taskbar and an 'open link in new tab' option in the right click context menu.

Users will be able to refresh tabs individually or collectively, and choose to automatically open links in a new tab. As of yet, there's no way to save a collection of tabs as a home page or convert favourites to tabs, but hopefully Microsoft will integrate these features before the final release.