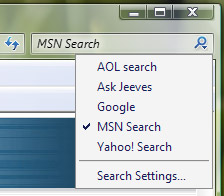 A 'delete browser history' button has been added, collecting the various history and cache deletion functions into one simple command. This is a nice feature which helps users protect their privacy more easily and should let thousands of teenagers using their parent's computers breath a little easier at night.
The new search bar is a sensible implementation similar to that seen on the Firefox browser. It sits next to the address bar and defaults to MSN search. Right clicking brings up a few other popular search engines like Google and AskJeeves. According to Microsoft, the search bar will be extensible in the final version of the Internet Explorer 7 browser, though in the first public beta it will likely be restricted to the default set of alphabetically listed search engines.
The toolbar interface has gone through a general streamlining process in Internet Explorer 7 to reduce the amount of screen real estate that the controls take up.

The forward and back buttons have been shrunk, and the stop button combined with the refresh button (and repositioned to the end of the URL bar). Other toolbar functions have been moved and reduced in size to eliminate one row from the toolbar completely.
Internet Explorer 7 and RSS feeds
RSS feeds are simple XML files that web masters can constantly update to provide links to new content on their web pages, or even provide the content itself. RSS readers link to these 'feeds' and refresh them regularly, alerting the user when there is new or updated content to read. By linking to the RSS feeds provided by their favourite websites, users can stay abreast of any new updates without having to surf to each site individually.

Internet Explorer 7 introduces in-browser support for this new and extremely popular technology, starting with the ability to view feeds 'in browser' rather than requiring a special application or add-on. Handily, IE7 will automatically scan each web page for RSS feeds, informing the user by means of an icon if they are present or not. Users can then use the RSS indicator icon to either read the feed or subscribe to it.
The final version of Internet Explorer 7 will apparently function as a full-featured RSS reader, since it stores the user's RSS subscriptions (referred to as 'web feeds' by Microsoft) and checks them periodically behind the scenes, informing the user when there is any new content. The current beta versions of IE7 lack the ability to check stored feeds automatically, but will allow users to read the feed directly in the browser window instead of tossing up a bunch of XML code.