Almost all of Internet Explorer 7's new features will be configurable by group policy, including the major additions like the Security Status Bar and search bar. Add-ons are also remotely configurable and enforceable, allowing system admins to keep tight rein on what their users try to install.
Integration with Windows anti-spyware
Internet Explorer 7 will be closely integrated with Microsoft's anti-spyware software, something that developers have likely been working on for a while. While current versions of IE also enjoy protection from Windows Anti-spyware, Internet Explorer 7's simplified form should make access much easier, leading to tighter security.
Separation of church and state: Windows Vista IE7 protected mode
As we mentioned earlier, the Windows Vista version of Internet Explorer 7 will provide some enhanced security features, most notably the 'protected mode'. What this amounts to is providing Internet Explorer with the level of separation from the rest of the operating system that other popular browsers already enjoy.
Internet Explorer 7 will run in its own limited process, with access to the system files and registry available only by means of a 'broker process' activated when the user accesses the menus. Automatic actions such as those caused by scripts and active X controls will be refused by the broker process, allowing them no access to affect IE7 or the rest of the operating system. Essentially, without user intervention, IE7 for Vista will be unable to make any changes to the operating system or hard drive with the exception of the 'temporary Internet files' folder.
This kind of feature may prove to be a panacea for many of Internet Explorer's security woes and is long overdue. It's a pity that users will have to upgrade(?) to Windows Vista to get it though.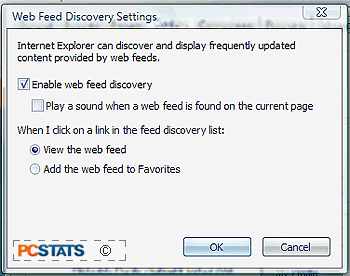 What does all this mean to you?
With the features that Microsoft has added, Internet Explorer 7 is now looking like an essential upgrade for current IE users. The tabbed browsing, RSS / web feeds and search bar are nice, and should bring IE7 up to parity with competing browsers, but the real meat is underneath the hood in the various changes and enhancements that Microsoft has made to the basic browser code.
Internet Explorer 7 should be the most secure iteration of the browser to date, even before the inevitable patches. Hopefully Microsoft's improvements here will lead to a still greater separation of the browser from the rest of the operating system too.
As to whether Internet Explorer 7 can convince Firefox users to switch back, the jury will be out until the final version release, which is a few months away yet. Firefox has its share of problems and annoyances, though security is not (yet) a major one. If IE7 can deliver on its promise of greater security while delivering the same browsing experience IE users have become used to
When can I get it?
As of the time of writing, you can't unless you are a member of the Microsoft Developer's Network or its IT professional TechNet service. As we said, Internet Explorer 7 will be available both in a standalone version and in a slightly different edition packaged with the public Windows Vista beta operating system.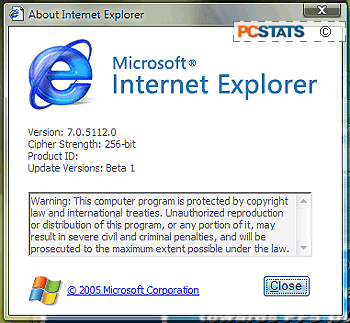 The standalone version of Microsoft Internet Explorer 7 should be released in early to mid 2006, with a public beta hopefully coming around the fourth quarter of 2005. The Vista version of IE7 will obviously be available only with the operating system itself, sometime in late 2006.
Find out about this and many other reviews by joining the Weekly PCstats.com Newsletter today! Catch all of PCstats latest hardware reviews right here.
Related Articles
Here are a few other articles that you might enjoy as well.
1. Mozilla's Firefox 1.0 Internet Browser
2. Microsoft Windows Anti-Spyware (beta) Software Review