Doom 3 is the most advanced game to date. it takes advantage of the latest videocard technology and pushes the processing power of the CPU to its absolute limit. At its highest setting, Ultra quality, texture sizes pass the 500MB mark which means even tomorrow's videocards will have a hard time running everything. The frame rates in the game itself are locked at 60 fps so anything above that point is wasted. Each test is run three times with the third run being recorded.
Doom3
LQ 640x480:
FPS
Ranking
Albatron K8X890 Pro II (K8T890 200/400)
125.7
MSI RS480M2-IL (RS480 200/400 Onboard Video)
14.2
MSI RS480M2-IL (RS480 200/400 7800GTX)
110.4
ASRock 939Dual-SATA2 (Uli M1695 200/400)
119.5
Chaintech Zenith VNF4 Ultra (NF4 Ultra 200/400)
124.7
DFI LANParty NF4 SLI-DR (NF4 SLI 200/400)
126.9
DFI LANPartyUT NF4 SLI-DR Expert (NF4 SLI 200/400 7800GTX Single)
127
ECS KN1 Extreme SLI (NF4 SLI 200/400)
124.4
Foxconn WinFast 6150K8MA-8EKRS (GF6150 200/400 Onboard Video)
21.1
Foxconn WinFast 6150K8MA-8EKRS (GF6150 200/400 GeForce 7800GTX)
123.3
Gigabyte GA-K8N51PVMT-9 (GF6150 200/400 Onboard Video)
17.6
Gigabyte GA-K8N51PVMT-9 (GF6150 200/400 GeForce 780GTX)
127.8
Asus A8N-VM CSM (GeForce 6150 200/400 Onboard Video)
15.3
Asus A8N-VM CSM (GeForce 6150 200/400 GeForce 7800GTX)
121.9
Asrock 939NF4G-SATA2/M/ASR (GF6100 200/400 Onboard Video)
19.1
Asrock 939NF4G-SATA2/M/ASR (GF6100 200/400 GeForce 7800GTX)
124
Doom 3 numbers are very strong, onboard video doesn't cut it here but performance with a stand alone GeForce 7800GTX is excellent.
Experts Tip: Watch out for the USB pins
One thing that users may not be aware of is that USB pin outs can be different depending on motherboard brand and even chipsets used. Since Asrock does not equip the 939NF4G-SATA2/M/ASR motherboard with resettable fuses, (the fuse protects the mainboard from over-currents or shortages to the USB slots) users must use a bit of caution when installing the USB header. When installing the USB pins connectors, make sure you get the pin outs right, if not shorting out the motherboard or even starting a fire at the USB header (I've done this once!) is possible! If the case is older and only has a single large USB header connector, only connect it if you are absolutely sure the pins match the motherboard. The values of the wires should be labelled on the connector itself.
Comments and Feedback? Suggest a Tweak.
Great value motherboard!
The GeForce 6100 chipset is exactly what AMD needed to satisfy the requirements of its value-oriented consumers who aren't yet interested in high definition content, or fancy TV encoder features that are likely to go unused. The ASRock 939NF4G-SATA2 motherboard fulfills its role as an affordable, no frills socket 939 AMD Athlon64 and Sempron compatible motherboard with integrated Geforce 6-series video. It's a cost-effective way of building an equally inexpensive entry-level Athlon64 system, and can be found online with a retail sticker price of about $100 CDN ($91 USD).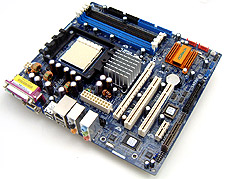 The microATX ASRock 939NF4G-SATA2 motherboard is a straightforward install (remember to install that DDR first!), and novice users can find support in the included manual if things go awry. Being based on the GeForce 6100 chipset means the 939NF4G-SATA2 motherboard incorporates pretty decent graphics capability care of a 15-pin analog VGA jack at the rear I/O. The 'NV44' GPU is DX9.0c compatible, and includes support for Pixel Shader 3.0 so it can handle some light gaming at lower resolutions and detail levels.
If you are using the onboard graphics card, it is worth while to recall that it shares up to 128MB of the installed system memory. If you've only installed 256MB or 512MB of dual channel DDR , the system is going to be sluggish - do yourself a favour an keep memory to at least 1GB (2x 512MB).
In general 3D performance levels are high enough for casual gamers, but if that's insufficient make use of the PCI Express x16 slot and install a videocard that meets your performance and budget requirements. Doing so will not prevent the integrated graphics card from working, so a multi-monitor display is another benefit the ASRock 939NF4G-SATA2 motherboard can potentially offer its owner.
The ASRock 939NF4G-SATA2's overclocking results are not spectacular but then again the motherboard is not targetted towards hardware enthusiasts. Those who want to really push their systems would be better served with an nForce4 Ultra or SLI motherboard, users looking for a pure workstation style motherboard however will definitely find the ASRock 939NF4G-SATA2's stock performance attractive.
There will always be a strong market for affordable integrated video motherboards, but until now the extremely popular AMD Athlon64 'K8' processor has been left out in the cold. NVidia's Geforce 6100 and 410MCP chipsets offer a concise set of features that make this a viable solution for consumers building Athlon64 or Sempron based computers on a tight budget. The Geforce 6100 is not as feature packed as the Geforce 6150 and nForce 430MCP combo, but the core functionality of what is otherwise a great integrated video chipset is still there. Compared to the alternative solutions in this class, like the Intel i945G, the graphics capabilities of the Geforce 6100 series is better. Bottom line; the ASRock 939NF4G-SATA2 motherboard is well worth consideration if you need a no frills K8 motherboard with onboard graphics.
Find out about this and many other reviews by joining the Weekly PCstats.com Newsletter today! Catch all of PCstats latest hardware reviews right here.
Related Articles
Here are a few other articles that you might enjoy as well...
1. Foxconn WinFast 761GXK8MC-S Motherboard Review
2. Foxconn WinFast 6150K8MA-8EKRS Motherboard Review
3. ASRock 939Dual-SATA2 Socket M2 Upgradable Motherboard Review
4. Asus A8N-VM CSM GeForce 6150 Motherboard Review
5. Gigabyte GV-K8N51PVMT-9 Motherboard Review