FEAR is Sierra's latest first person shooter which relies heavily on DirectX 9 features. With its "Soft Shadows" feature enabled, even the fastest videocards run at a crawl, FEAR is definitely the new benchmark for future FPS games to follow.
FEAR 1600x1200 SS Disabled:

Anti-Aliasing

FPS

Ranking

MSI NX7900GTX-T2D512E 2x AA

52

MSI NX7900GTX-T2D512E QC AA

51

MSI NX7900GTX-T2D512E 4x AA

34
MSI NX7900GTX-T2D512E 8x AA
16
Anisotropic Filtering

FPS

Ranking

MSI NX7900GTX-T2D512E 2x AF

71

MSI NX7900GTX-T2D512E 4x AF

69

MSI NX7900GTX-T2D512E 8x AF
69
MSI NX7900GTX-T2D512E 16x AF
69
Anti-Aliasing and Anisotropic Filtering

FPS

Ranking

MSI NX7900GTX-T2D512E 2x AA, 8x AF

50

MSI NX7900GTX-T2D512E 4x AA, 16x AF

33

MSI NX7900GTX-T2D512E 8x AA, 16x AF

16
FEAR is one intensive game and only light Anti-Aliasing will provide decent framerates with the GeForce 7900GTX. Turning on AF does not degrade performance very much, even when 16x AF is enabled. Please note that there is a known issue with the Forceware 83.50 and FEAR. nVIDIA has addressed this issue and with the Forceware 84.17 drivers. The difference is said to improve performance by 25%. Soft Shadows and Anti-Aliasing are not compatible with each other.
Experts Tip: Make Games Prettier

Most gamers are familiar with Anti Aliasing and Anisotropic filtering however the nVIDIA drivers offer more eye candy tweaks than that. Changing the "Performance & Quality Settings" view from "Basic settings" to "Advanced settings" opens up a new world of options that gamers. From "Anisotropic mip filter optimization" to "Transparency antialiasing" and "Gamma correct antialaising", there are more options that meets the eye. There is no best setting to change so gamers will have to test out the individual options themselves but it is worth it and can make a huge difference your favorite games!

Comments and Feedback? Suggest a Tweak.
GeForce 7900GTX vs. Radeon X1900 XTX: Too close to call...
It is refreshing to see how quickly both ATi and nVIDIA have gotten the latest graphics cores out the door, nothing is more frustrating for gamers than paper launches. Grrr... Paper Launches!! With that said, the new nVIDIA 'G71' core is not Earth shattering compared to the previous generation, the 'G70,' but it does provide a decent performance boost to a platform that is almost eight months old. The nVIDIA 'G71' puts the GeForce 7900GTX videocard on par with ATi's best and costliest.
The MSI Computer NX7900GTX-T2D512E videocard is based entirely on the nVIDIA GeForce 7900GTX reference design, and thanks to its large heatsink looks pretty visually impressive. It might appear big and loud, but the fan on the NX7900GTX-T2D512E is dead silent under heavy 3D loads. What a refreshing change compared to the loud stock heatsink on high end ATi videocards like the X1900 XTX. As usual, the software package that accompanies the MSI's NX7900GTX is current, and includes a full copy of "King Kong".
The new nVIDIA 'G71' core is essentially the old nVIDIA G70 core built on a smaller manufacturing process (0.09 vs 0.11 micron), and sped up. This gives new GeForce 7900GTX based videocards a decent performance boost over the previous generation. Because of the speed increase, power consumption has also swollen, and users should take careful note of which power supplies nVIDIA recommends... 400W and up.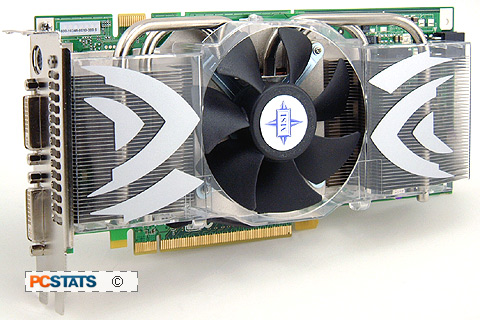 While we were unable to test XHD (eXtreme High Definition) for lack of a 20" widescreen LCD display, we can already see the benefits of widescreen gaming taking hold. XHD gaming promises a better experience than with standard 4:3 monitors, just as watching movies in the theatre is vastly better than any paltry 60" HDTV screen can offer.
Remember though that widescreen gaming requires a more powerful videocard like... the MSI NX7900GTX-T2D512E. ;-)
Looking over the benchmarks we can see that the MSI NX7900GTX-T2D512E videocard was very fast in 3D tests, and it's difficult to say whether this card or the Asus EAX1900XTX (Radeon X1900 XTX) is faster overall. nVIDIA's 'G71' sweeps benchmarks based on Doom 3 and Quake 4 quite easily, however it trails slightly in 3DMark06 and FEAR.
MSI's NX7900GTX-T2D512E videocard was a decent overclocker, achieving a max core speed of 702 MHz and memory speed of 1.77 GHz in our tests. In spite of this, overclocking did not seem to affect 3D benchmark results very much. Aside from 3DMark05/06 scores though, there really is no need to overclock a flagship videocard like this.
With a retail price in the region of $573 CDN ($499 USD/£287 GBP), the MSI NX7900GTX-T2D512E videocard is an awesome PCI Express x16 solution which includes SLI compatibility, HDCP, XHD, H.264 video acceleration and a wonderfully quiet although two-slot cooling solution. It is not much of a step up from the GeForce 7800GTX 512MB versions, but for anyone who is considering a card in that class, the MSI NX7900GTX videocard is certainly the way to go.
Find out about this and many other reviews by joining the Weekly PCstats.com Newsletter today! Catch all of PCSTATS latest reviews right here.
Related Articles
Here are a few other articles that you might enjoy as well...
- PowerColor X800 GTO PCI Express Videocard Review
- MSI RX1800XT-VT2D512E 512MB-Version RX1800XT Videocard Review
- MSI NX7800GTX-VT2D512E 512MB-version 7800GTX Videocard Review
- Gigabyte GV-NX66T256DE Videocard Review
- XGI Volari 8300 Reference Videocard Review