The GeForce 7900GTX name should indicate to users that the difference between it and the preceding GeForce 7800GTX is minimal (unlike the jump from 6800 to 7800).
Aside from the improved manufacturing process which results in a smaller core size, there are really no architectural differences between the 'G70' and 'G71' GPUs.
If you recall, nVIDIA chose to stick with 0.11 micron manufacturing process for the 'G70' and instead experimented with newer manufacturing techniques on its lower end products. Now that TSMC has the 0.09 micron manufacturing process down pat, nVIDIA has given its G70 core a refresh and so the 'G71' is born.
The new nVIDIA GeForce 7900GTX core contains a hefty 278 million transistors (which take up an area of 196 square millimeters vs. 352 square millimeters for the ATi X1900 core), which is less than the 7800GTX's 302 million. The 7900GTX GPU is clocked at 650 MHz, or 100 MHz higher than the 7800GTX version. Its pixel pipeline has remained the same at 24, and the vertex pipeline at 8.

The GeForce 7900GTX core continues on with Intellisample 4.0 technology, CineFX 4.0 engine and supports DirectX 9.0C and OpenGL 2.0.
The memory controller remains at 256-bits, and the GDDR3 memory has a default clock speed of 1.6 GHz (51.2 GB/s bandwidth), 100 MHz slower than with the 7800GTX 512MB (54.4 GB/s bandwidth). The dual 400 MHz RAMDACs will support dual monitors with a maximum resolution of 2048x1536 at a staggering 85 Hz. Users of large 16:9 widescreen LCDs will like the fact that GeForce 7900 series supports two Dual-link DVI connectors with a maximum resolution up to 2560x1600.
Dual-Link DVI doubles the power of transmissions and provides an increase in speed and signal quality. This is necessary for extremely high resolutions as single-link DVI connectors do not support enough bandwidth. For instance a single-link DVI at 60 Hz can only display a resolution of 1920x1080, while a DVI dual-link display can go as high as 2048x1535.
Two new GPUs in the Geforce 7900 Series
Here is a break down of the two new GPUs introduced by nVIDIA as compared to the current Geforce 7800s. You can see there are a few minor changes between the classes, but essentially the features are the same.
GeForce 7900GT/GTX VS 7800GTX Specifications
7900GTX
7900GT
7800GTX-512
7800GTX
Manufacturing Process
90nm
90nm
110nm
110nm
Number of Transistors
278M
278M
302M
302M
Core Clocks (Vertex, Core in MHz)
700/650
470/450
550/550
470/430
Memory Clock (MHz / data rate)
800/1600
660/1320
850/1700
600/1200
Vertex Shaders (#)
8
8
8
8
Pixel Shaders (#)
24
24
24
24
Memory Interface
256-bit
256-bit
256-bit
256-bit
Frame Buffer Size
512MB
256MB
512MB
256MB
Memory Bandwidth (GB/s)
51.2
42.2
54.4
38.4
Verticies/Seconds (million)
1400
940
1100
940
Texture Fill Rate (# Pixels pipes x clk) in Billions/sec
15.6
10.8
13.2
10.32
Bus Technology
PCI Express
PCI Express
PCI Express
PCI Express
Despite the die shrink, the power requirements for the GeForce 7900GTX have increased from what the Geforce 7800GTX consumes.
In a single 7900GTX videocard situation, nVIDIA recommends at least a 400W power supply with 22 Amps on the 12V rail. Two GeForce 7900GTX videocards running in SLI will obviously use more power, and for this nVIDIA recommends power supplies in the range of 500-600W with 30 Amps on the 12V rail.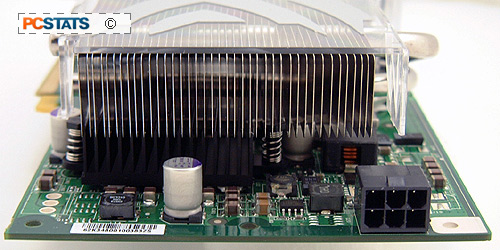 In any case, users contemplating a spiffy new GeForce 7900GTX videocard should check out nVIDIA's list of approved power supplies first. Now, what's all this about XHD Gaming?