eSATAII (aka External Serial ATA) support is easily the most exciting feature of the new ASRock 939SLI32-eSATA2 motherboard. When it comes to external mass storage, bandwidth has always been an issue. USB 2.0 (480 Mbps) and IEEE 1394a/b (400/800 Mbps) offer better alternatives than past connections like Serial and Parallel ports but they are still slow compared to dedicated hard drive channels.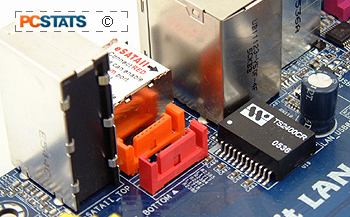 With the emergence of Serial ATA, external storage took a huge step forward. Serial ATA is an affordable solution (as opposed to SCSI) that offers speeds at well past USB or IEEE 1394 levels.
Serial ATA generation I has up to 1.5Gbps worth of bandwidth and Serial ATA generation II doubles that bandwidth to 3Gbps. Serial ATA makes even IEEE 1394b's 800Mbps bandwidth look paltry by comparison.
ASRock places its eSATAII module at the rear I/O ports, and for the system to work two jacks must be connected to the M1697 Southbridge's Serial ATA II channels via standard Serial ATA cables - basically SATA jumper cables. This is required because these eSATAII ports are not directly connected to the Southbridge. Therefore, if you have plans to use the external Serial ATA ports you'll loose access to two M1697 Southbridge's Serial ATA II channels.
Standard internal Serial ATA cables are great for internal connections, but SATA-IO governing body changed things up with the external version, thus creating the eSATA standard. The ASRock 939SLI32-eSATA2 supports eSATA I (I not 'one') type connectors, there are also eSATA L connectors so we'd advise you to double check what type of connector end is on any kind of cables you might pick up.
eSATA enclosures are already pretty widely available, and the great thing is that hard drives connected over this standard are just as fast as internal devices. The connectors are hot swapable, so it makes adding and removing an external hard drive about as complex as clipping in a USB memory key.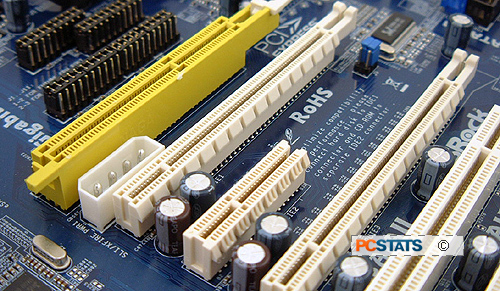 RoHS - The Goal of Removing Hazardous Materials from Electronics
If you've purchased any computer components the last little while you've probably noticed the little garbage can with an X running in front of it, that is the RoHS symbol. RoHS (Restriction of Hazardous Substances) is a European Union initiative which targets electrical and electronics equipment.
Specifically, RoHS targets heavy metals used in electronic components like Lead, Mercury, Cadium, Hexavalent Chormium, PBB and PDBE. In order to comply with EU's RoHS legislation, all substances must either be removed or reduced to within maximum permitted concentrations. This applies to all electrical components that will be sold within the European Union.
RoHS was originally discussed in the European Union in July of 2003 and at the moment, is completely voluntary. It was introduced as law in the UK in August of 2004 and will be enforced as of July 1st 2006. Manufacturers caught putting non compliant products onto the EU market will face stiff fines and have their products barred.
While manufacturers are primarily affected by RoHS, the law is also seeking to change how we as consumers handle our old electronics at the end of its life cycle. End users are advised to handle electronic waste as "hazardous waste", and dispose of old electronics through proper waste channels - not simply toss these items into the trash. As the RoHS symbol indicates, it is no longer okay to throw old computer gear into the dust bin.
Experts Tip: Manage Space Carefully

The ULi M1697 Southbridge generates a fair amount of heat, and because ASRock decided to go with passive cooling it requires a larger heatsink. Plus side: it's totally silent! This can pose problems to users with long PCI expansion cards, or even with the second PCI Express x16 SLI videocard if it has a dual slot cooler. Depending on the length of cards, or heatsinks there may be interference between the cooler and this aluminum heatsink on the Southbridge. Before slapping in a new card, do a test fit to make sure there is enough room first.

Comments and Feedback? Suggest a Tweak.
Socket AM2 Future CPU Socket
Easily the most attractive feature of the ASRock 939SLI32-eSATA2 motherboard is its ability to support Socket AM2 when that platform is released.
The yellow "Future CPU Port" slot is where the upcoming add on card will connect to the 939SLI32-eSATA2 motherboard. This daughter card will have both the new AMD Socket M2 and DDR2 DIMM slots as well as possibly a new Northbridge chipset. The latter may not be necessary since the DDR-2 memory controller is expected to be integrated into the processor, just as with the current Athlon64 processor. The ULi M1695 Northbridge basically just handles the PCI Express bus.

Jumpers for the CPU type selection, Socket or Future CPU port
Judging by the layout of the ASRock 939SLI32-eSATA2 motherboard, the add on card will be quite restricted in space and will probably only feature two DDR2 memory DIMM slots for dual channel memory.