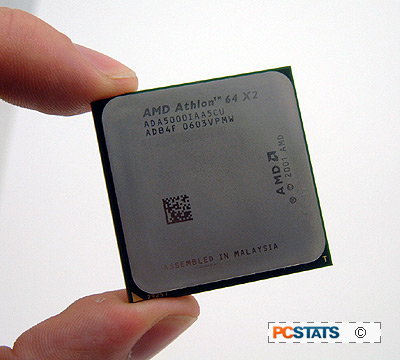 It was only a matter of time before the Athlon64 and DDR2 paired up. Multi-core processors require memory bandwidth than traditional DDR memory cannot handle, and in order to keep the high performance Athlon64 architecture going adopting DDR2 was a necessary step.
For users, the new socket AM2 Athlon64 signals a shift in both the Athlon64 architecture, and in upgrade paths. With the 940-pin socket AM2 processor, several other key components of a system have also had to be upgraded by default; including the motherboard and memory requirements, and heatsink. With dual videocard SLI capabilities married to virtually all high end motherboard platforms, a new power supply is likely to be on the list as well.
In the previous pages of this review, PCSTATS showed you the two new processors that AMD has unleashed on the world; the socket AM2 Athlon64 X2 5000+ and the socket AM2 Athlon64 FX-62.
The Athlon64 X2 5000+ retails for $773 CDN ($696 US, £396 GBP) and the flagship Athlon64 FX-62 goes for $1147 CDN ($1031 US, £547 GBP). Both processors are available as of this moment.
The AMD Athlon64 X2 5000+ as its name indicates is the newest mainstream part. The dual core processor is built on AMD's 90 nanometer manufacturing processes with SOI technology. Each core is clocked at a brisk 2.6 GHz and features 128KB L1 and 512KB L2 cache per core. The smaller cache size does not put the Athlon64 X2 5000+ at much disadvantage, and as you could see in the benchmarks it often performed on par with the more expensive socket 939 Athlon64 FX-60.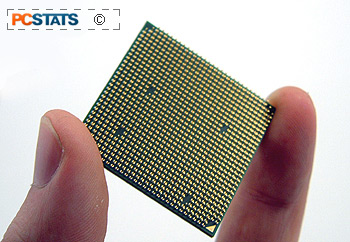 The AMD Athlon64 FX-62 simply beams awesomeness and is the fastest desktop processor in the computer industry to date that PCSTATS has tested. Like the X2 5000+, the Athlon64 FX-62 is also built at AMD's Fab30 Dresden manufacturing plant on 90 nanometer SOI technology.
The two processing cores are running at a blistering 2.8 GHz and come fully loaded with 1MB L2 cache per core. A feature that hardcore enthusiasts will love is that the Athlon64 FX-62 comes fully multiplier unlocked, and is the easiest overclocking processor available. Make no mistake about it, the Athlon64 FX-62 has absolutely no rivals in performance or prestige.
AMD's chipset and motherboard manufacturing partners have loads of socket AM2 peripherals ready and you can find quite a few socket AM2 motherboards on the market already. Easily the most impressive are the new nVIDIA based nForce 500 series motherboards. Not satisfied at rehashing the nForce4, nVIDIA's new nForce 500 series chipsets dramatically improve on what the nForce4 lacked. DualLink technology is great news for enthusiasts who are running on high bandwidth networks, FirstPacket allows educated users to prioritize packets for gaming/VoIP and LinkBoost promises to improve bandwidth between the key subsystems like PCI Express and HyperTransport between CPU and Northbridge!
Memory latency timings affect how quickly the system memory gets data to and from the processor and the other devices. Throughout its lifetime the Athlon64 is known to benefit from lower timings, with DDR2, timings are much higher than DDR memory ever provided. It will be interesting to see how AMD is able to improve on its current processors using a memory standard that is not tuned for it.
As the benchmarks demonstrated, the only rival for AMD's Athlon64 X2 5000+ and Athlon64 FX-62 are its own processors from the Socket 939 generation. Intel's best simply doesn't have the power to even be in the same league, although the emerging Intel 'Conroe' core is rumored to put up stiff competition. AMD's 90 nanometer manufacturing has matured nicely and we were pleasantly surprised with an overclock of 2.92 GHz from the socket AM2 Athlon64 X2 5000+ and 3.08 GHz from the socket AM2 Athlon64 FX-62.
Despite all this computing power, the socket AM2 AMD Athlon64 X2 5000+ and FX-62 both use less power than current Intel processos. AMD is also set to release low wattage socket AM2 Athlon64's shortly which will use even less power.
The socket AM2 Athlon64 X2 5000+ and Athlon64 FX-62 have no rivals and if you want a top of the line system, it'll use either one of these processors. With all the new settings DDR2 brings to the table, enthusiasts and tweakers will be busy having fun for a very long time.
Find out about this and many other reviews by joining the Weekly PCstats.com Newsletter today! Catch all of PCSTATS latest reviews right here.
Related Articles
Here are a few other articles that you might enjoy as well...
- AMD Athlon64 FX-60 Dual Core Processor Review
- The Underclocking Experiment
- Overclocking and WindowsXP x64 Edition
- AMD Athlon64 X2 4800+ Processor Review
- Intel Pentium D 840 Dual-Core LGA775 Processor Review