Since the majority of changes with the Socket AM2 processor platform has to do with the CPU itself, many socket 939 K8 chipsets are finding their way onto 940-pin socket AM2 supporting motherboards.
Taiwanese manufacturers like VIA and SiS have already stated that popular socket 939 chipsets like the VIA K8T890 or SIS 756 will work with socket AM2. nVIDIA is the only manufacturer to have designed new chipset specifically for the AM2 platform. Here is a brief overview of the chipsets whose support will shortly extend into socket AM2 processors, once the necessary socket refreshes have been made.
VIA's Socket AM2 Chipsets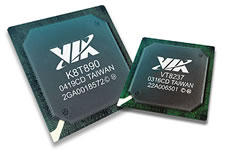 Starting off, the VIA K8T890 is the exactly the same chipset as the socket 939 Athlon 64 processor is paired with. It is a PCI Express based platform that supports a single PCI Express x16 videocard and four PCI Express x1 slots for expansion. The new socket AM2 AMD processors will connect to the VIA K8T890 Northbridge via a 1 GHz HyperTransport connection which provides up to 8GB/s of bandwidth either way.
VIA V-Link connects the Northbridge to the VIA VT8237R Plus Southbridge, and the core logic includes two Serial ATA channels, two Parallel IDE channels, a Gigabit and 10/100 MAC, a 5.1 channel integrated audio codec and eight USB 2.0 ports.
Since the VIA K8T890 chipset is socket AM2 compatible, it will save motherboard manufacturers some time and money in developing new motherboards, and should help ensure that the chipset reaches the retail market quickly. This doesn't mean you can install a socket AM2 Athlon64 X2 5000+ onto one of your existing K8T890 motherboards however, socket 939 and AM2 are physically incompatible.... just to clarify that.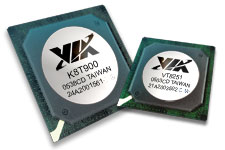 VIA's new K8T900 chipset, as its name indicates, is more advanced and supports dual videocards. The PCI Express platform will split the PCI Express x16 bus evenly when two videocards are installed, and it can support another four PCI Express x1 devices. HyperTransport connects the CPU to the Northbridge, and it runs at 1 GHz and is 16 bits wide up and downstream.
VIA's 1066MB/s V-Link connects the Northbridge with the Southbridge chipset together. The VT8251 Southbridge chipset supports VIA's High Definition Audio or AC'97 audio codecs. There is a Gigabit and 10/100 MAC integrated into the Southbridge, as well as two parallel IDE channels and four SATA2.0 channels which also support RAID modes 0, 1. 0+1 and 5. Finally, the VIA VT8251 supports eight USB 2.0 ports.
VIA's integrated K8N/M890 chipsets has the same feature set as the discrete K8T890, but integrates a VIA Chrome 9/HC videocard into the Northbridge. The onboard videocard is DirectX 9.0 compatible and supports the pixel shader 2.0 standard. There are two pixel rendering pipelines, and the 128 bit 2D/3D engine clock speed is 250 MHz. Both internal videocards support HDTV output as well as conventional S-Video and composite outputs. Should you desire, the chipset supports a PCI Express x16 slot for an external videocard.
SiS' take on Socket AM2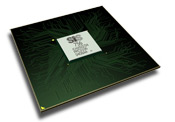 The SiS chipsets has stated that its SiS756 and SiS761GX chipsets are compatible with the new socket AM2 platform. The company will be releasing its socket AM2 specific SiS77 and SiS771 chipsets in the near future. No details have been announced at the current time.
The SiS756 is a PCI Express chipset which can support a single PCI Express x16 videocard along with two additional PCI Express x1 slots. The SiS756 is connected to the Athlon64 processor via an adjustable HyperTransport connection that can run up to 1 GHz and 16 bits wide. The SiS756 Northbridge connects to the SiS965 Southbridge via SiS' MuTIOL I/O bus which has 1GB/s worth of bandwidth. The SiS965 Southbridge supports four Serial ATA 1.0 hard drives which can run in RAID modes 0, 1 and 0.1. There are also four parallel IDE controllers for legacy devices. There is an integrated Gigabit MAC as well as an 7.1 channel audio controller, and the southbridge supports eight USB ports and up to six PCI bus mastering devices.
The SiS761GX is aimed at the entry level market and office workstation users who require a powerful processor, but can get by with just a basic videocard. The chipset is PCI Express, and supports both x16 and x1 slots although the configuration is up to the motherboard manufacturer. Integrated into the Northbridge is SiS' Mirage 1 Graphics 256-bit engine. It is only DirectX 7.0 compliant however, but we also find high definition video outputs as well as DVI for digital LCD monitors. The SiS966 Southbridge accompanies the SiS761GX, and SiS' MuTIOL connects the two providing 1GB/s of bandwidth. The Southbridge supports four SATA channels and can run in RAID modes 0, 1 and 0+1. There are two channel parallel IDE channels, an integrated Gigabit NIC and an 7.1 channel high definition audio codec among its feature set.
nVIDIA went in another direction and actually released four new chipsets specifically for socket AM2 AMD Athlon64 processors. Let's see what the nForce 500-series has to offer....