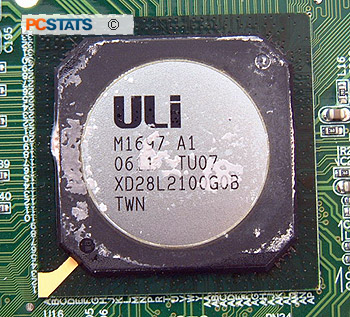 The ULi M1697 is a versatile chipset for the Athlon64 processor platform; including sockets 754/939/940 and even the recent DDR2 Socket AM2 platform. The M1697 supports the PCI Express bus and is a single chip solution, much like nVIDIA's nForce chipsets. The four DDR RAM slots support a maximum of 4GB of DDR400 memory and can run in a dual channel configuration.
The ULi M1697 chipset supports dual videocards (but not SLI) and can split the PCI Express x16 lanes into two PCI Express x8 lanes. The chipset can also support three PCI Express x1 slots or a single PCI Express x4 slot for high bandwidth devices. The M1697 connects to the processor via a 1 GHz 16-bit (both up and downstream) HyperTransport connection. It also supports three PCI bus mastering slots for older legacy devices.
Features that are integrated into the ULi M1697 include a 7.1 channel High Definition audio controller or 5.1 channel audio controller depending on manufacturer, for the Epox 9U1697 GLI motherboard a 5.1 channel audio is used. Four Serial ATA II channels which support NCQ, RAID (mode 0, 1 0+1 and 5) and eSATA external devices take care of storage requirements. For users with older legacy hardware, the ULi M1697 also supports two IDE channels for a total of four devices.
The chipset also has both a Gigabit and 10/100 ethernet MACs, but like with the audio controllers, it's the manufacturer's discretion on what to use on the board (on this Epox motherboard 10/100 is used). Finally the chipset natively supports eight USB 2.0 slots.
Here's a block diagram explaining all the features integrated into the ULi M1697 chipset itself.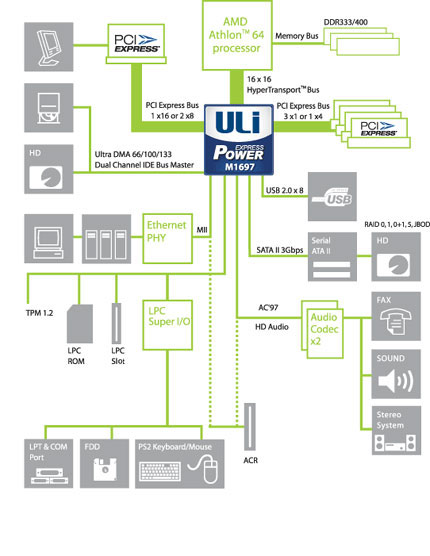 Feature wise the ULi M1697 is very strong for a product that is really being targeted towards value-oriented users. With nVIDIA gobbling up ULi, everyone is certainly wondering if nVIDIA will eventually give its SLI blessing on this budget chipset. We did try to run two GeForce 7800GTX videocards in 'GLI mode' with beta Forceware 91.27 drivers..... but that was a no go. It didn't matter whether the jumpers were set properly or not and we were unable to find the ULi SLI patch that's rumored to unlock SLI compatibility.
Next up, we'll show you some of the highlights of the motherboard...