Overclocking Results:
To get the Epox 9U1697-GLi motherboard ready for some serious overclocking the processor multiplier was first set to 6x, and the memory to run at 133 MHz mode. With these settings neither the processor nor memory would hold the board back from its full potential.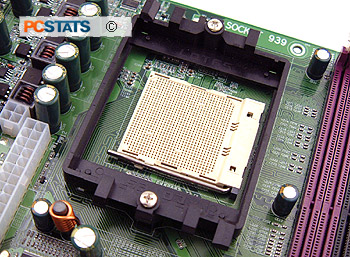 Starting at 200 MHz, the motherboard clock speed was increased in 5 MHz intervals. Things moved pretty smoothly and before we knew it, the Epox 9U1697 GLI passed the 250 MHz mark. Nice. Continuing to push the motherboard further, we began to encounter some instability at 285 MHz - the system started to show some signs of instability, but increasing the chipset voltage to 2.3V solved that issue.
The Epox 9U1697 GLI was able to hit the 300 MHz mark, pretty impressive considering this is a budget motherboard!
In the end, the board topped out a maximum speed of 306 MHz which is definitely very fast! In fact many motherboards targeted towards the enthusiast crowd cannot even hit this speed, good job Epox/ULi!
Rummaging Around the Epox BIOS:
For a budget motherboard the Epox 9U1697 GLI sure comes with a lot of sporty features. Tweakers and enthusiasts will definitely have a fun time getting the most from their systems.
Epox allows users to totally tweak out their machines and it has as many memory options as much higher end motherboards.
In terms of overclocking and voltage options, you should be pretty pleased. There is full multiplier control depending on the type of processor you're using. The motherboard clock speed can be adjusted between 200-400 MHz in 1 MHz intervals and there are a whole host of memory speed options. The maximum CPU voltage can go 0.150V above stock, which is a bit on the low side. Perhaps Epox can raise that a bit in the next BIOS release. Memory voltage can go as high as 3.2V and chipset voltage to 2.4V.
Next up the test system specs and our very first office oriented benchmarks....